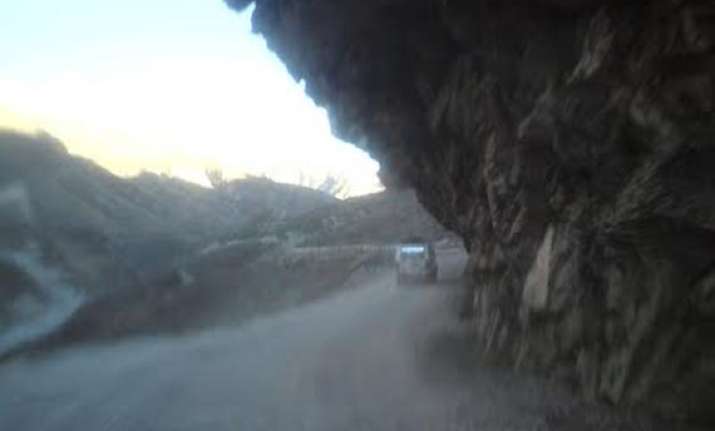 Dehradun, Jul 12: Debris brought over by overnight rains blocked the Badrinath National Highway at two points near Nandprayag and Gauchar today but clear weather led to resumption of air relief operations in affected areas. 
Heavy overnight rains in Chamoli district brought mud and slush on to the Badrinath highway today, blocking it near Nandprayag and Gauchar, officials said.  However, efforts are on to clear the route by BRO personnel.
With the 14-km trek route to Kedarnath totally washed away in the recent calamity in Uttarakhand, the Army has begun the exercise of building an alternative 20-km route to the Himalayan shrine.
The exercise was launched at the request of civil administration and NDRF to find out an alternative to the traditional route, an official note from the Army said today.
The new route is likely to follow the alignment from Sonprayag-Gomkar-Dev Vishnu- Dhungaj Giri- Kedarnath and will be about 20 km in length, passing over an altitude of over 13000 ft, it said.
"Surya Command conducted a reconnaissance of the area and began work on opening a route to the shrine," it said.  After much difficulty the Central Command personnel succeeded in building a crossing over the Vasuki Ganga at Sonprayag, it said.
Another team is now busy establishing a staging area in Gomkara beyond Sonprayag, it said.
With the weather largely clear at most places in the worst hit Chamoli, Uttarkashi and Rudraprayag districts, choppers are transporting relief to affected areas, officials said.
Despite an alert sounded in Chamoli district following the formation of a lake by a melting glacier at Satopanth about 30 km from the Himalayan shrine, officials said there is no cause for panic.
Water percolation through the nearly 500 metre lake is going on at a normal pace, so there is no cause for panic, an official said after a district administration team and ITBP personnel conducted an aerial survey of the area.  
Most of the power supply lines snapped in the villages since the tragedy occurred have also been restored through alternative arrangements, officials said, adding total restoration of power in the countryside would not be possible before September 30.