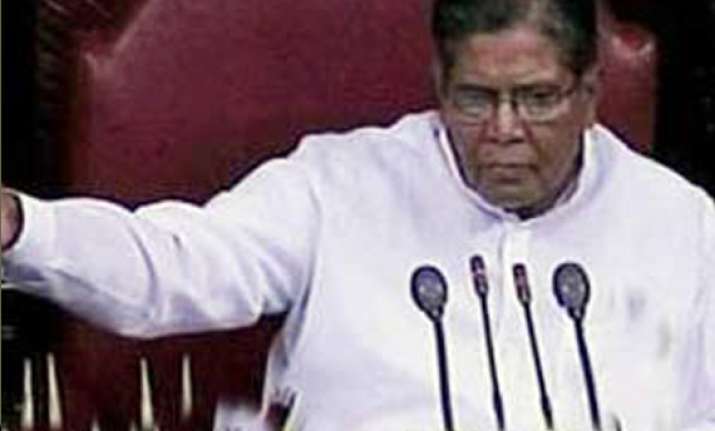 New Delhi, Dec 28: A day after embarrassment in Lok Sabha on the Constitution Amendment Bill on Lokpal, government was today forced by Opposition to defer introduction of a bill in the Rajya Sabha for setting up an agriculture university in Bundelkhand region of poll-bound Uttar Pradesh.
 
"Introduction of the Rani Lakshmi Bai Central Agricultural University Bill, 2011 is deferred," Deputy Chairman K Rahman Khan announced, as the government could not get support from the Left and BJP members even after three adjournments.
 
Minister of State for Parliamentary Affairs Rajeev Shukla and Agriculture Minister Sharad Pawar held consultations with leaders of the Left and the BJP in the Deputy Chairman's chamber.

The UPA does not enjoy majority in the Rajya Sabha which has an effective strength of 243 members. 

The House was first adjourned in the morning for 30 minutes after CPI-M and BJP opposed introduction of the bill, stating the Centre does not have powers to incorporate a university.

When Pawar sought leave to introduce the bill, P Rajeeve (CPI-M) rose to state that as per Union List, the Central Government has no right to bring a legislation for incorporation of a university.

He found support in the BJP which also disallowed the government to bring the legislation.

Pawar cited precedence of central agriculture university in Imphal to say that the Central government had the powers to do so.

"Constitutional provisions cannot be replaced by a precedence," Rajeeve said, adding as per entry number 44 in the Union List, Schedule 7 of the Constitution, incorporation of a university was under jurisdiction of the state government.

The UPA could not get the Constitutional Amendment Bill on Lokpal passed in the Lower House last night as it fell short of numbers.

Telecom Minister Kapil Sibal, who was present in the House, said the Concurrent List gives Centre the power to legislate on technical, medical,vocational institutions and universities.

Earlier, the Deputy Chairman said Rajeeve should have given prior notice of his objection to the introduction of the Bill.
To this, the CPI-M member said the agenda was circulated only this morning and he could not give notice. 

Khan, however, overruled the objections saying the concurrent list provided central government powers to set up a central university. "After examination, I overrule your objections."

He then put the introduction of the bill to vote where Opposition benches first shouted against it in chorus and then sought division.

Amidst the demand, Khan adjourned the House for half an hour.

Sibal was seen rushing to Leader of the Opposition Arun Jaitely apparently to consult him on the issue.
 
When the House reassembled at 11.45 am, P J Kurien, who was in the Chair, adjourned it till noon, when the House was adjourned for the third time for 10 minutes.  Finally, when the House met at 12.10 pm, Khan said introduction of the bill has been deferred.