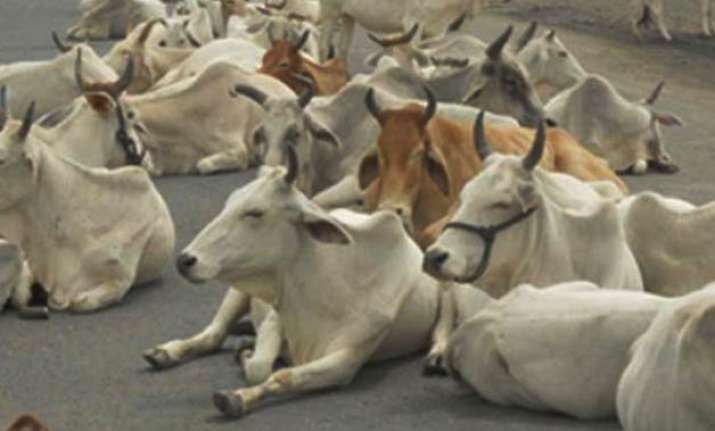 Shimla: In a breakthrough in the Himachal Pradesh lynching case, police yesterday claimed to have arrested one of the five people accused of killing an alleged cow smuggler two days back and said the remaining would be nabbed soon as they have been identified.
One of the accused has been arrested, DSP of Sirmaur district Yogesh Rolta said about the incident that took place near Lawasa village in Sirmaur district, about 150 kms from here, on Friday.
The arrested person, who is a local resident, is being interrogated to get more information about the incident and the persons involved in the attack and some more accused may be identified, he said.
Efforts are on to arrest the other four accused, he added.
Earlier in the day, Rolta said, "We have identified five persons on the basis of messages and pictures flashed by some youth when they captured the five alleged cow smugglers."
28-year-old Noman Akhtar, a resident of Saharanpur in Uttar Pradesh, was lynched by a mob on October 16 while his four accomplices were apprehended by police with the help of local people after nearly four hours of chase of the truck carrying ten oxen and five cows in the forests in Sirmaur district.
One of the four, who was booked under Prevention of Cruelty against animals and admitted to the hospital at Rajgarh, has been discharged while three others have been shifted to hospital at Nahan.
DGP Sanjay Kumar said said the incident was "unfortunate" but is being blown up "out of proportions".
The incident, which happened close on the heels of Dadri lynching, drew criticism, with the CPI(M) and Congress condemning the incident and urging the government to ensure that peace in the state was not disturbed.
Vishwa Hindu Parishad blamed the government for "failure" to check smuggling of cows, oxen and other animals to adjoining districts of Uttar Pradesh.
VHP's State Organising Secretary Manoj Kumar said the government had failed to check smuggling of cows, and the police was now "targeting" the activists involved in Cow protection.
However, the state's Animal Husbandry Minister Anil Sharma said the government was committed to protect cows and other cattle, but it was the task of the police to check smuggling of animals.
Expressing concern over the incident, the All-Himachal Muslim Welfare Society has urged the Chief Minister to order a probe into incident.
"No one was above the Constitution and a probe should also be initiated by the Deputy Commissioner, Sirmaur and those involved in this ghastly act of lynching a youth, should be arrested immediately," Naseem Mohammed Diddan, president of the Society said in a statement.