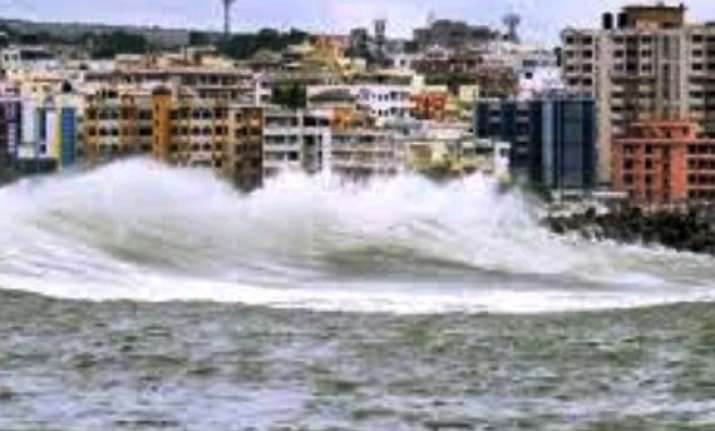 Bhubaneswar: Odisha Government stepped up relief and restoration activities as cyclone Hudhud passed to neighbouring Chhattisgarh today after claiming three lives, damaging about 50,000 thatched houses, electrical infrastructure and roads in four districts.
"There have been extensive damage of houses and electrical infrastructure due to the cyclone which passed the state late last night," Chief Minister Naveen Patnaik told reporters here after taking stock of the situation.
With power infrastructures like electric poles, transformers have been badly damaged in Gajapati, Koraput, Malkangiri and Nabarangpur districts, restoration work is being done on a 'war footing', Patnaik said, adding 90 percent of the work would be completed by this evening.
He said a total of 2,33,271 people were evacuated to safe places and are now housed in 2,029 shelter homes. "The affected people may leave for their  homes once the intensity of the cyclone decreases considerably though mild  rain may occur at some places," Special Relief Commissioner (SRC) P K Mohapatra said.
Of the eight identified cyclone-hit districts in the southern region, Mohapatra said four - Gajapati, Koraput, Malkangiri and Rayagada have been affected more.
According to preliminary reports 25,000 kutchha houses were damaged in Koraput district, 15,000 houses in Gajapati, 7,000 in Rayagada and 1,000 houses in Malkangiri, the SRC said, adding reports from other districts were awaited.
The casualties remained at three as the lives of many people were saved due to timely evacuation, he said. Though there was not much damage in Ganjam, Kandhamal, Nabarangpur and Kalahandi districts, massive  uprooting of trees was reported from Koraput, Malkangiri, Gajapati and Nabarangpur, he said.
As the wind speed was about 100 kmph when Cyclone Hudhud passed Odisha, there has been substantial damage to electrical infrastructures, Energy Secretary Suresh Chandra Mohapatra said.