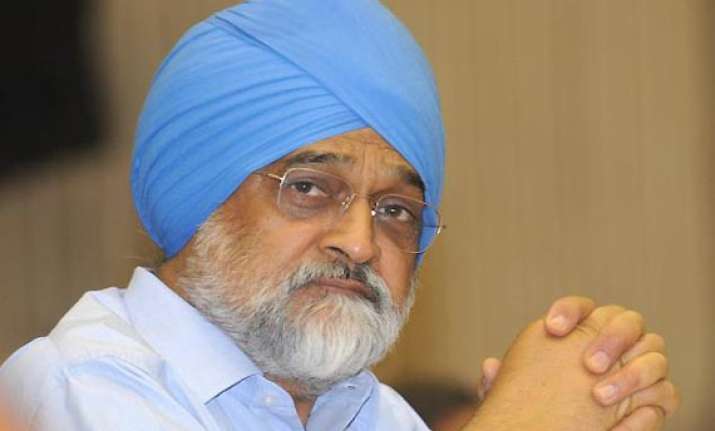 Bhubaneswar, May 23: In a major setback to the Naveen Patnaik government, the Planning Commission has made it clear that Odisha does not qualify for the grant of Special Category Status, triggering a war of words between the ruling BJD and the Congress.
"You will appreciate that under the existing criteria for approval by the National Development Council, Odisha does not qualify for grant of Special Category Status," Planning Commission Deputy Chairman Montek Singh Ahluwalia said in a letter to Patnaik.
Ahluwalia described the state's finances as stable and viable with sound indicators of fiscal deficit, outstanding liabilities and interest payments to total revenue receipt.
"The balance of current revenue is also positive which contributes to plan resources. Thus this (non-viable nature of state finance) criterion is not satisfied," he said.
The Planning Commission deputy chairman said the state's demand has been examined with regard to existing criteria.
"Odisha does not satisfy the criterion of hilly and difficult terrain although forests in some areas do pose some difficulties," he said.
Pointing out that the proportion of tribal population in the state was relatively high compared to general category states, but lower than several special category states, he said, "The criterion of strategic location along international borders is not satisfied."
In infrastructure, Odisha's status was less than the national average in terms of irrigation potential created and railway route per 100 square kilometre, but in terms of National Highway density, other roads and power infrastructure, Odisha's potential was satisfactory, he said.
Patnaik had written to Prime Minister Manmohan Singh for special category state status on November 24, 2011.
Finance Minister and BJD vice-president Prasanna Acharya dubbed as irresponsible Ahluwalia's letter and said "This exposes UPA government's double standards.
"The UPA government disqualified Odisha's claim purely on political consideration. We will fight till Odisha is accorded its genuine and justified right of a special category state status," he said.
Noting that the Centre sanctioned Rs 12,000 crore for Bihar under the Backward Region Grant Fund, while Odisha got only Rs 1,200 crore, he said "UPA government sanctioned more funds to Bihar only keeping an eye on the possible support from Nitish Kumar's party."
Ridiculing Ahluwalia's argument that Odisha's financial situation was stable, Acharya asked, "Is it a demerit to make progress on the economic front? Though Odisha has improved its economic situation, it requires a long time to match the national average in terms of many other factors."
Blaming Congress leaders from the state for denial of special category status, he said, "We do not understand to which state Union Minister Srikant Jena belongs. His statement that Odisha does not need special category status is a matter of shame."
The Opposition Congress, on the other hand, accused the BJD of politicising the matter.
"When Union Finance Minister P Chidambaram has already said that criteria for special category status will change, there is no point to worry about it. Congress will also fight for special category status for Odisha," newly appointed OPCC president Jaydev Jena said.