Agra: 600 cleaners are set in motion in Agra to scrub the roads ahead of US President Barack Obama and his wife Michelle Obama's visit on Tuesday.
The cleaners, being paid Rs 300 a day each, are put in to polishing of roads on knees and bent back throughout the day.
The beaming workers hold high expectations that Obama will admire their handiwork.
Apart from this massive cleaning campaign, authorities have also been doing away with the stray dogs and cows to keep the streets clean.
Almost the entire area near the mausoleum has been sealed till Obama's visit.
As told by India's former chief archeologist, K K Mohammed, "There are a lot of spit stains and such that need to be washed away. The streets need to be spick and span."
The Obama's visit will be covered by a massive press pack and the organizers in Agra want to ensure a picture-perfect backdrop.
Pradeep Bhatnagar, chairman of the Taj Trapezium Zone, added that the ongoing beautification work has been stopped for the coming 10 days so that the dust can settle.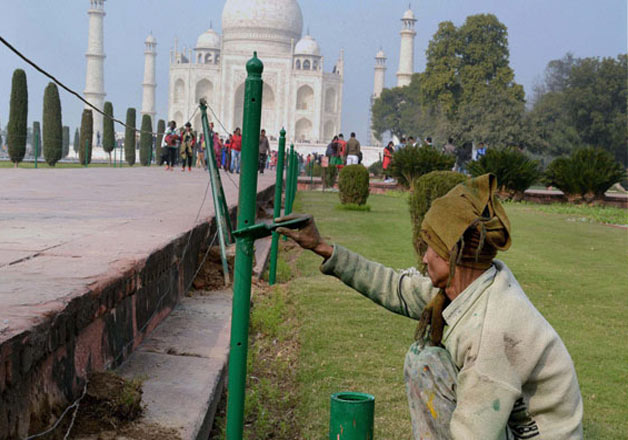 Similar work has been going on inside the Taj Complex also, where around a dozen women have been appointed to trim the lawn edges with trowel. These ladies are paid 100 Rs a day.
Around 3000 policemen have also been appointed for the D-day to conduct boat patrols of the nearby Yamuna River.
Away from all these, locals staying around the Taj complex are grumbling on the curfew being imposed on them as they are not allowed to go outdoor or on the rooftops.
Tourists will be completely banned on that day hence there would be no visitors in vicinity as well.
However, they insist that the locales should be allowed to venture out.