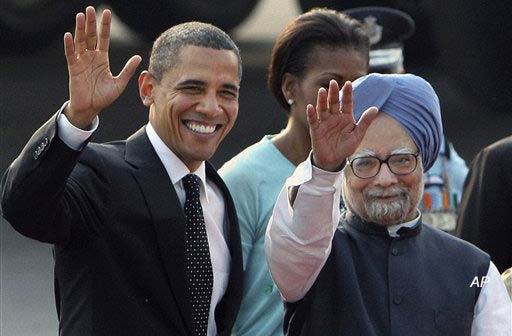 New Delhi, Nov 8 : US President Barack Obama today began talks with Prime Minister Manmohan Singh on a wide range of bilateral and other issues.
After a ceremonial reception at the Rashtrapati Bhawan, Obama drove to the Hyderabad House from Rajghat to begin restricted talks with the Prime Minister which would be followed by delegation-level talks.
Finance Minister Pranab Mukherjee, External Affairs Minister S M Krishna, National Security Adviser Shivshankar Menon and Foreign Secretary Nirupama Rao were present with the Prime Minister at the restricted meeting with Obama.
Later, other senior ministers including Sharad Pawar, A K Antony and other officials are expected to join the delegation-level talks.
The two leaders are expected to issue a joint statement covering a number of issues ranging from security, trade and economy, including cooperation in international fora like G-20.
India is expected to apprise Obama about its concerns on terror emanating from across the border and the need to convey to Pakistan to restrain terror groups operating from its soil.
The two sides are also expected to make a number of announcements on cooperation between them in various fields.PTI