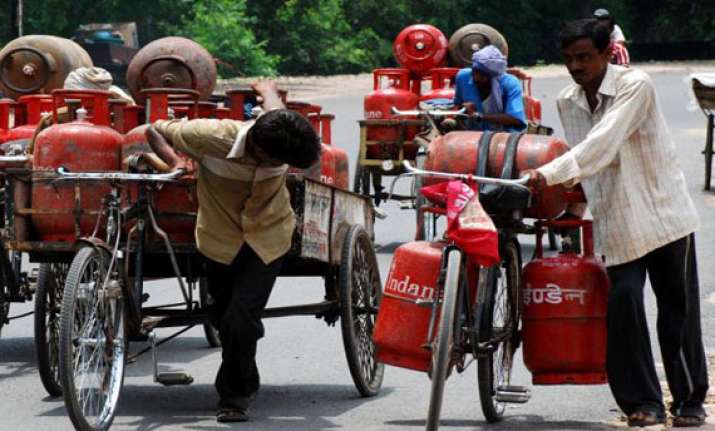 New Delhi, Nov 19: Finding it difficult to surrender the extra cooking gas LPG cylinder you have? Help is now just a click away.
Consumers owning more than one LPG connection can now surrender the extra one online. All that they have to do is log-on to their respective company site and fill in surrender details and forget the rest.
After that it will be the responsibility of the LPG dealer to chase the consumer and get the surrender formalities completed.
"We have been receiving complaints of harassment faced by consumers at the hands of LPG dealers. It is near impossible to monitor and punish each and every LPG distributor in the country. So, we are now putting in place systems that will empower the consumers," a senior Oil Ministry official said.
The official said oil firms are implementing the policy of 'one household, one connection' and have asked consumers to voluntarily give up additional connections.
Multiple LPG connections in the 'same name and at the same address' as well as 'husband and wife' owning connections at the same address would be summarily disconnected.
In case of multiple connections at same address under different names, consumers have been asked to fill Know-Your Customer (KYC) forms to establish verify genuine users.
Indian Oil Corp, the nation's largest fuel retailer, has blocked 10.2 lakh LPG connections and last week it received applications from 30,000 consumers to voluntarily surrender the  extra connection, he said.
It has identified another 1.49 crore households were multiple connections have been taken at the same addresses under different names.
The drive to weed out multiple connections at same address follows the government decision in September to cap supply of subsidised LPG to six cylinders per household in a year.
The official said the deadline for filling KYC form has now been extended till November 30.
Consumers in the KYC form have to gives all the necessary details like name, date of birth, father's name, mother's name, spouse name, complete address with pin-code and also an optional information about bank details. They have to submit self-attested photocopies of address and ID proof along with the filled in form.
New LPG connections will be issued after completion of the KYC formalities and multiple connection check.
The official said oil firms have resumed issuing new subsidised LPG connections, beginning with Meghalaya, Sikkim, Nagaland and Andaman & Nicobar Islands. Jammu &
Kashmir, Himachal Pradesh, Manipur and Tripura will follow suit shortly. Other states will follow once the exercise to eliminate duplicate connections is completed.
The official said though oil firms had stopped releasing new connections pending completion of de-duplication process, they had continued to accept registration of new allotments.
"All LPG consumers are eligible for three subsidised domestic cylinders during the remaining part of the current year ending March 31, 2013," the official said.
New connections will be issued after completion of the KYC formalities and multiple connection check.
There is no restriction on the number of domestic non-subsidised cylinders that consumers can avail beyond the three subsidised LPG refills to meet their genuine demand.
From April 1, next year, LPG consumers can avail six domestic subsidised LPG refill cylinders in a financial year.