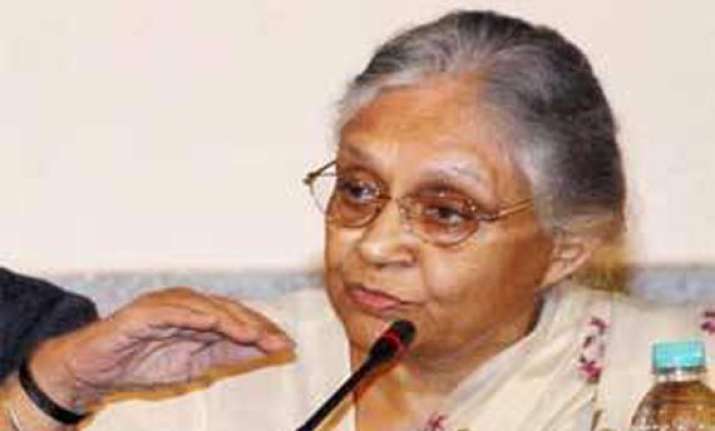 New Delhi, May 29: Launching a fresh attack on Delhi Police, Chief Minister Sheila Dikshit today rued that things have not changed since the brutal December 16 gangrape incident in the city and women are still scared of going to police stations to register their complaints.
"Sensitivity of policing should be much much more than what is right now. It is very difficult for women to go to a police station and register a complaint because they are scared of going to police," Dikshit said in an interaction at Indian Women's Press Corps (IWPC) here.
Normally a cool Dikshit lost her temper when she was asked whether the Chief Ministership should be abolished as she was helpless in addressing major issues confronting the city.
"If you want to abolish the CM's post, then do so," she retorted.
She, however, quickly listed her achievements in the last 14 years claiming that her government has performed splendidly in diverse sectors including education, health care and road infrastructure.
Dikshit had severely criticised police in the wake of the brutal gangrape and assault of a 23-year-old para-medical student who later died in December last year and even demanded resignation of Delhi Police Commissioner Neeraj Kumar. She had also regretted not having any control over functioning of the police which functions under Home Ministry.
"The crime against women is a matter of great concern for us. Women do not go to police station as they do not have confidence in police. This is a major challenge to change the current system. We have to confront the challenge. But question is where to start and how to start," Dikshit said.
The Chief Minister has been attacking police periodically after the gangrape incident and even sought the Prime Minister's intervention in February to direct the force to deliver on its promises to improve women's safety.
The Delhi Government has been seeking some aspect of policing like traffic management and law and order under it. The Delhi Police functions directly under the administrative control of the Home Ministry.
The Chief Minister also underlined the need for changing the mindset of the society to ensure better security environment for women in the city.
"Rapes have been taking place in the city and the culprit in majority of the cases is in the home or neighbourhood, and victim's family feels helpless in taking any action," she said.
"Society's thinking has to change a lot and collective efforts need to be taken. We have to work collectively to awaken people and change society's mindset. We must do everything possible to improve the situation," Dikshit said.
The Chief Minister said she has been raising voice expressing concern over the law and order situation on behalf of the common people as they often come to the elected representatives.
"The common people cannot go to the Home Minister, Lt Governor and Police Commissioner. They come to me. I have to raise voice on their behalf," she said.
The chief minister rued that the people in the city have forgotten courtesies and have become "insensitive". "There is no discipline and the city's culture is spoilt. We have forgotten courtesies and have become insensitive."
Dikshit also blamed Delhi's porous border for rising crime rate in the city saying people from neighbouring states often flee after committing crime here.
"I think no boundary of no national capital is as porous as of Delhi. We have top deal with the issue," she said
To a question on why Delhi Government failed to improve safety of women in public transport, she admitted that there were lacunae but added that efforts were being made to improve it.
"Public transport is not up to the standard of a national capital. Around 40 lakh people commute by metro and 55 lakh travel by the DTC buses daily. Around 40-45 lakh people commute by other means of public transport. We are making efforts to improve the public transport," she said.
Asked what will be the issues on which she will seek people's support for Congress in the assembly polls due in November, she said she would go to the electorate with confidence based on her government's performance.
"I will go to the people with confidence. I think people will see our performance and decide," she said.
On Aam Admi Party, she said people will judge them.
"They started with the issue of corruption. Then they forgot it and joined politics. People will judge them."
Asked about her recent comments that she was offered bribe for a ticket for the assembly polls, Dikshit refused to go into details but said focus must also be on those who offer bribe.
"We always focus on those who take bribe but we do not focus on those who give bribe. We must focus on bribe givers as well," Dikshit said.
Queried on whether she was interested in a fourth term as Chief Minister if her party wins again in the assembly elections, Dikshit said a decision in this regard will be taken by party high command.
"The high command will decide about it. I will abide by their decision," she said.
Asked about water scarcity in the city, Dikshit admitted there was shortage of water and said she has been urging the neighbouring states to release more raw water to Delhi to meet drinking water requirements.
Referring to continuous migration of people to Delhi from other states, Dikshit said the city was faced with the major challenge of providing drinking water to its residents.
Emphasising the need for recycling of waste water, Dikshit said the "big hotels" must ensure that water was not wasted.
Delhi government last month asked 35 five-star hotels to take immediate steps to cut down their consumption and directed them to set up waste water treatment plants.
Identifying the five-star hotels as major guzzlers of water, the government has directed them to take a number of "concrete steps" to conserve water and install waste water treatment plants by September.
The current average demand of potable water in Delhi is around 1,100 million gallons per day (mgd) and currently Delhi Jal Board supplies around 800 mgd water across the city after treating raw water in its treatment plants. The demand is projected to touch around 1,400 mgd by end of the 12th Five- Year Plan in 2017.
The Chief Minister said many unauthorised colonies in the city were facing water crisis because of tanker mafia.
"Tanker mafia existed in many areas. I would suggest people to agitate against these elements," said Dikshit.
The Chief Minister also admitted corruption in public distribution system and said it was a reason why her government has launched the ambitious Annashree Yojna under which Rs 600 is being given monthly through direct cash transfer to around 60,000 poor families.
When asked whether she think army should be deployed in Chhattisgarh's Bastar district in the wake of the attack on Congress leaders, Dikshit said it was a sensitive issue which should be examined carefully by relevant authorities.