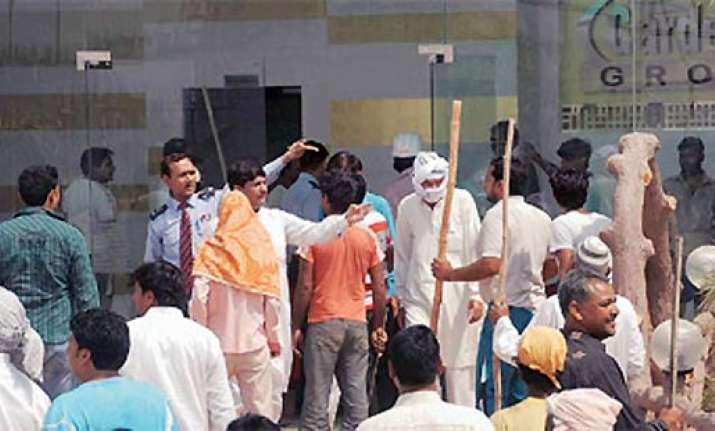 Noida, May 17: The agitation by farmers in Bhatta-Parsaul of Greater Noida appears to have ignited the spark of protest in neighbouring Noida too. 
On Monday, more than 250 farmers from Sorkha village reached the construction sites of private builders Supertech, Amrapali, Ajnara and Gardenia in sectors 74, 75 and 76 at around 10 am and disrupted work, reports Mail Today. 
The farmers, wielding lathis, kept protesting for about one-and-a-half hour till Noida Authority officials reached there and pacified them. 
The farmers alleged that they were supposed to get residential plots in lieu of acquisition of their agricultural lands in the three sectors - that were subsequently sold off to the builders - but the Noida authority had been dilly-dallying. 
"For years now, they have denied us the same on some pretext or the other," Mahesh Yadav of Sorkha said. The farmers of Sarfabad and Barola villages, too, have been protesting for the same reason.
About 650 acres of agricultural land in Sorkha was reportedly acquired by the Noida Authority while nearly 120 acres of land was purchased between 2001 and 2010. 
All the farmers whose lands were acquired or purchased were eligible to get a plot measuring five per cent of the acquired land in a developed sector. 
The UP government later hiked this size to seven per cent of the acquired land in Noida and 9 per cent in Greater Noida for all acquisitions made since 2006. 
While some residents of Sorkha, Sarfabad and Barola did get plots in Sector 112, many others have not been lucky so far. About 97 people from Sorkha are on the waiting list. 
"Sometimes they say they are not allotting the plots because we are encroaching government land by extending our houses and at times, they cite some other reason," Dharam Pal Yadav of Sarfabad said. 
Noida Authority's administration officer Deep Chand said: "We are going by our rule that allows us to allot plots only to those who haven't encroached upon public lands. Keeping the problem in mind, we started a survey last month to regularise the habitation in these villages, after which we will allot the remaining plots to eligible people."
The farmers also claimed that since 2007, the authority had acquired the lands in these villages under Sections 4A and 17 of the Land Acquisition Act, 1894, stating emergency, without hearing farmers' objections under Section 5A. 
Ashok Chaudhary of Barola said: "We will soon approach the high court. We are holding a meeting of other village pradhans this Sunday to discuss the matter."