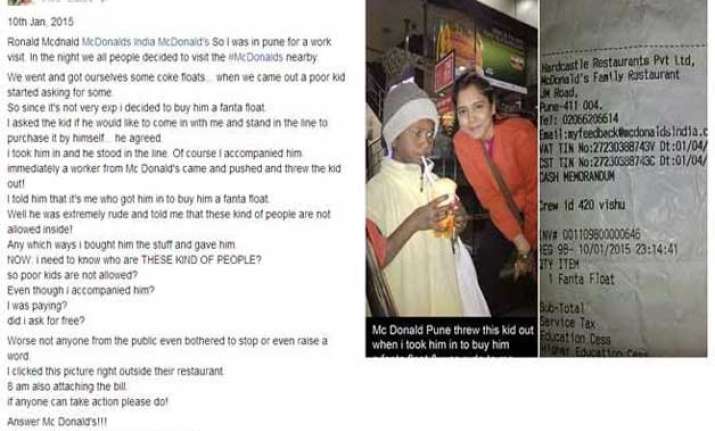 Pune: Internet users were outraged when a female customer Shaheena Attarwala posted on Facebook the news about a poor boy being denied entry into an outlet of McDonald's  on Jawaharlal Nehru Road, Pune.
Attarwala says, she was in Pune for a work visit around January 10, and had gone to the outlet with her friends where they got themselves some coke floats.
"When we came out, a poor kid started asking for some. So since it's not very expensive, I decided to buy him a fanta float. I asked the kid if he would like to come in with me and stand in the line to purchase it by himself.. he agreed.
"I took him in and he stood in the line. Of course I accompanied him. Immediately, a worker from McDonald's came and pushed and threw the kid out!. I told him it's me who got him in to buy him a fanta float. Well, he was extremely rude and told me that these kind of people are not allowed inside!
"Any which ways I bought him the stuff and gave him. NOW I need to know who are THESE KIND OF PEOPLE? so poor kids are not allowed? Even though I accompanied him? I was paying? Did I ask for free?
"Worse, not anyone from the public even bothered to stop or even raise a word. I clicked this picture right outside their restaurant & am also attaching the bill. If anyone can take action, please do! Answer McDonald's!! go back to USA or treat people here well!!!"
A spokesperson on behalf of McDonald's has said the company does not support any sort of discrimination and the matter would be inquired into. The outlet in Pune is  run by Hardcastle Restaurants Pvt Ltd.
The poor kid Akash Pawar later said, he had entered the outlet with the lady, but a man caught hold of his hand and took him out of the outlet.
Akash Pawar sells balloons outside the outlet.