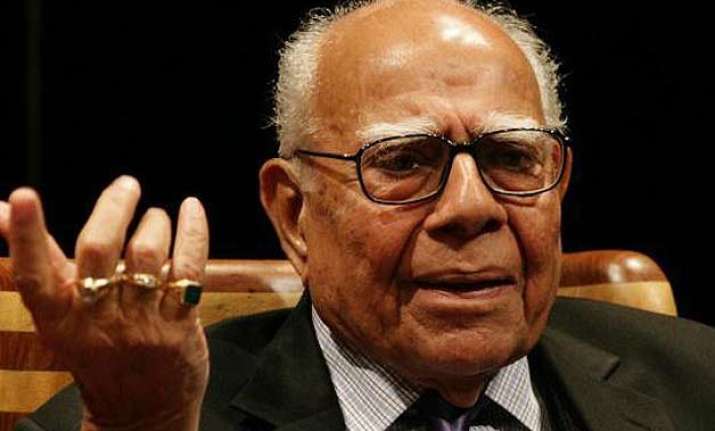 New Delhi:  The new law replacing the collegium system of appointment of judges for higher judiciary today came under severe criticism in the Supreme Court from noted jurist Ram Jethmalani who accused the NDA government of politicising and compromising judicial independence.  
He contended that the Constitutional Amendment Act carried out by the government to bring the new legislation was wholly "ultra vires" to the Constitution as there is a serious infringement of its "basic structure" and the presence of Union Law Minister in the National Judicial Appointment Commission (NJAC) would result in politicisation of the appointment of judges.
Jethmalani said the previous UPA government passed a Constitutional amendment which mentioned only one sentence providing for a NJAC and its contents was sought to be drawn by a Parliamentary law.
"Both government and Opposition were ad idem. But this (NDA) government has adopted a law that is more fraudulent," he submitted before a five-judge bench headed by Justice J S Khehar, which is examining the constitutional validity of the National Judicial Appointment Commission (NJAC) Act, 2014.  
Hitting out at the government over the controversial law, Jethmalani said "corrupt government requires corrupt judiciary and they encourage the appointment of corrupt judges".  
He said now primacy of the CJI's view has been taken away under the NJAC and he has been made to share his constitutional position with five others including the Law Minister, two eminent persons and two senior-most judges of the apex court.
"Any constitutional amendment which diminishes or dilutes the primacy of the Chief Justice of India recognised by 1993 and 1998 judgement of this court is void as repugnant to the basic feature of the Constitution and also inconsistent with the nine judge bench (verdict in judges case)," he submitted.  
"The Constitutional position today is that the executive will be entitled to and bound to consult the Chief Justice and the CJI's view is binding on the President.
This right has been taken away from him and he is made to share it with five others," said Jethmalani, who as a Rajya Sabha MP had opposed the passage of the new law in Parliament.