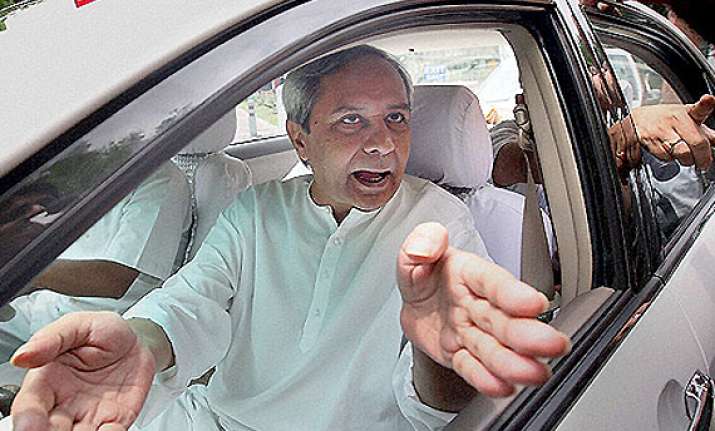 Bhubaneswar, Apr 13:
Unable to find any back channel contact with the Maoists holding BJD MLA Jhina Hikaka captive for last three weeks, Odisha Chief Minister Naveen Patnaik today visited Koraput in a desperate bid to explore ways to free the tribal legislator.
A day after curtains were drawn on the Italian hostage crisis with the release of Paolo Bosusco, the chief minister flew to Koraput and discussed with local leaders and officials various options to free the Laxmipur MLA.
"I held discussion with MLAs of undivided Koraput district and officials on the need to secure Hikaka's release," Patnaik said on his return from Koraput district, where the 37-year-old MLA was abducted by naxals on March 24.
"Besides MLA's hostage crisis, I also discussed various developmental issues, welfare programmes and problems of the area," Patnaik said, making a fresh appeal to the abductors to release Hikaka immediately and unharmed.
A group of Scheduled Caste people from Narayanpatna gave a memorandum to the chief minister alleging that they have been ousted from the area and sought justice.
The chief minister also met the family members of Hikaka at his house in Laxmipur who are in a state of anxiety since the abduction of the first-time MLA by Maoists of Andhra Odisha Border Special Zonal committee (AOBSZC).
As the Maoists refused to hold negotiations to resolve the MLA issue through mediators, it has become difficult for the state government to achieve any breakthrough.
"Direct negotiations would have facilitated the process," Home Secretary U N Behera said adding no back channel contact with abductors has been established so far.
Whatever information the government is getting from the Maoists is through the media only, he said.
Patnaik's visit to the district was significant as AOBSZC ultras have placed demands which are difficult to fulfill and the chief minister is keen to concentrate on the release of Hikaka, a senior official said.
"With Italian Bosusco freed by a separate Naxal group yesterday, the state government will now be able to give sufficient time for the resolution of the MLA hostage crisis," he said.
In the absence of any links with Maoists, the chief minister's Koraput visit was seen as an exercise to explore different channels in a bid to facilitate release of Hikaka unharmed as early as possible.
Though government is not in a mood to meet Maoists' demand to release 30 prisoners, including hardcore ultra Chenda Bhusanam alias Ghasi, accused of killing at least 55 policemen, some solution is likely to emerge, sources said.
Noting that there were serious charges against Ghasi, the Home Secretary said the government, which has decided to facilitate release of 23 prisoners, including 15 members of the Chasi Mella Divs Sangs (COMA'S) and eight Maoists, wants bail petitions to be moved for these people in courts.
As the government's call for filing bail petitions evoked little response, the district administration in Koraput has taken up the matter with the advocate of CMAS members, Behera said, adding bail petitions were being organised.
The Maoists belonging to AOBSZC have warned that they would be compelled to decide the fate of Hikaka in a 'praja' court (people's court) if the government delayed in meeting their demands or tried any trick.
The state government, however, has made it clear that a legal process has to be followed for the release of the 23 prisoners and that their bail petitions must be moved quickly.
After Bosusco's release, Hikaka's wife Kaushalya once again appealed to Maoists to release her husband immediately without causing any harm, pleading that "he is innocent".
She also expressed hope that the state government would take further steps to free her husband.
With Hikaka's captors remaining rigid on their demands and ruling out negotiation of any form through mediators, the government now seems to be trying to find some help from the Maoist-backed CMAS and use their influence on the AOBSZC for a solution to the hostage crisis, the sources said.
The Maoists had wanted Hikaka's wife to reach Balipeta in Naxal-hit Narayanpatna area along with 30 freed rebels, two mediators who negotiated with government representatives to resolve Italian abduction crisis and a Koraput-based lawyer for a hostage-prisoner swap.
However, the state government, which had already agreed to many demands of the Naxals, was not in favour of allowing anyone to visit the place.
There has been no fresh communication from AOBSZC for the last two days since the Naxal group issued its ultimatum on April 11.