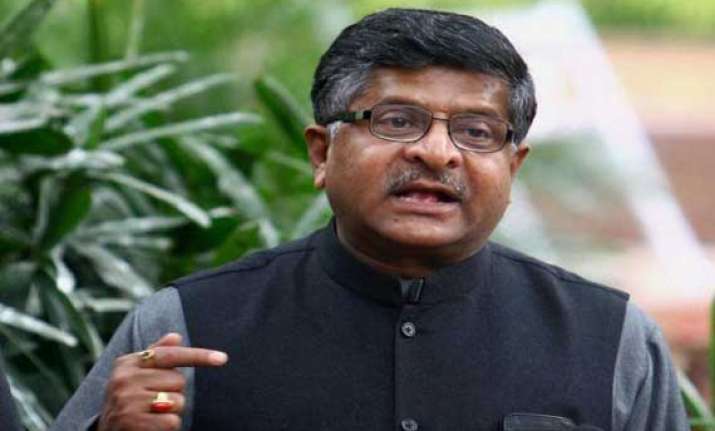 New Delhi: The Narendra Modi government will soon begin consultations with top jurists and former judges to finalise the shape of the proposed National Judicial Commission which seeks to scrap the present system of judges appointing judges.
Law Minister Ravi Shankar Prasad said here today that several eminent jurists, including late Justice J S Verma, had questioned the working of the present collegium system.
Justice Verma was one of the authors of the SC judgement which led to the present collegium system.
"We will soon hold interaction with jurists and former judges on the bill...BJP had promised in its election manifesto to bring the National Judicial Commission," Prasad said in an interaction at the Indian Women's Press Corps.
He said the previous bill introduced by the UPA government to scrap the present system of judges appointing judges has lapsed.
An earlier effort by the NDA government to replace the collegium system in 2003 did not succeed.
The then NDA government had introduced a Constitution amendment bill but the Lok Sabha was dissolved when the bill was before a Standing Committee. Finance Minister Arun Jaitley was the Law Minister then.
Asked whether the NDA government will 'rewrite' the UPA bill on the proposed Commission, Prasad said "I did not say that. That bill has lapsed."
Parliamentary nod to the Judicial Appointments Commission Bill had eluded the UPA government despite it agreeing to the demands by jurists and BJP to grant constitutional status to a proposed commission for appointment and transfer of judges to the higher judiciary to ensure that its composition cannot be altered through an ordinary legislation.
According to the UPA bill, while new Article 124 A of the Constitution will define the composition of JAC, Article 124 B will define its functions.
Responding to a volley of questions regarding the controversy surrounding government's decision to return the file relating to appointment of eminent lawyer Gopal Subramanium back to the Supreme Court collegium, Prasad said the NDA government has got the highest regard for the judiciary.
"Independence of judiciary is an article of faith for us...this government will uphold it very very dearly," he said.
On the Subramanium controversy, he said the government has the right to be consulted and a right to seek a reconsideration of the recommendation made by the SC collegium.
"This right is available to the government within the domain of the Supreme Court judgement itself laying down the collegium system. And with greatest respect, the government exercised that right based upon objective, cogent, reasonable and fair grounds," he said.
Prasad said the government's move was based on "ample precedence of the past."
Chief Justice of India R M Lodha had expressed displeasure over the government's handling of the case and questioned the segregation by terming it as a unilateral move of the executive.