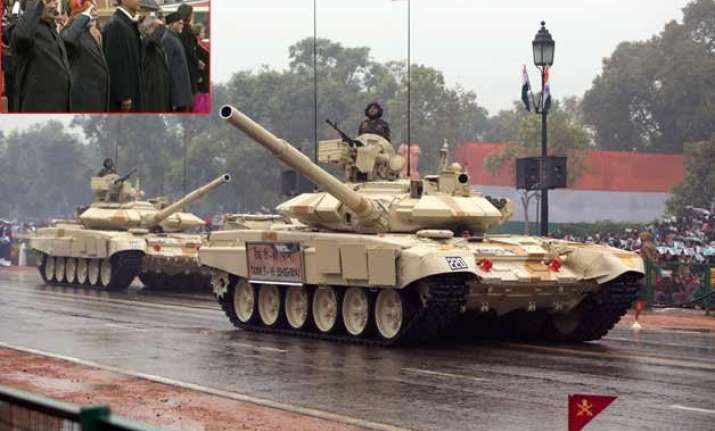 New Delhi: India is celebrating its 66th Republic Day today. The main function was held at Rajpath in the national capital where President Pranab Mukherjee unfurled the tricolour and took salute of the parade.
Prime Minister Narendra Modi and all three Service Chiefs were present at Rajpath on this occasion.
US President Barack Obama, the Chief Guest of this year's R-Day celebrations, was also present at Rajpath to witness the ceremony. He is the first American President to be chief guest at the annual Republic Day parade. The Republic Day invitation is considered as one of the biggest honours India can bestow on a foreign leader.
Here are the major highlights of the Republic Day celebration at the majestic Rajpath:
Indian President Pranab Mukherjee, Vice President Hamid Ansari, Prime Minister Narendra Modi and Chief Guest US President Barack Obama and First Lady Michelle Obama at Republic Day celebrations
12:15 pm: Tricolor balloons released in the air as the Republic Day parade comes to an end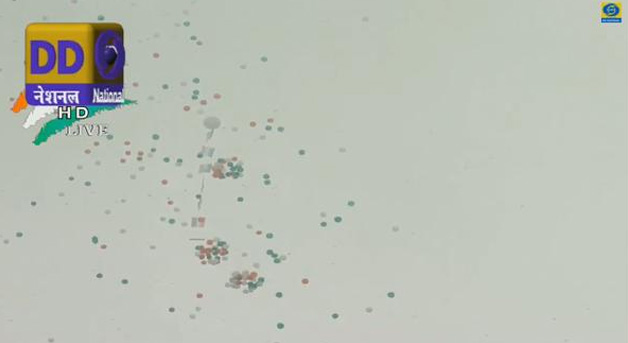 12:05 pm: Flypast begins comprising three Mi-35 helicopters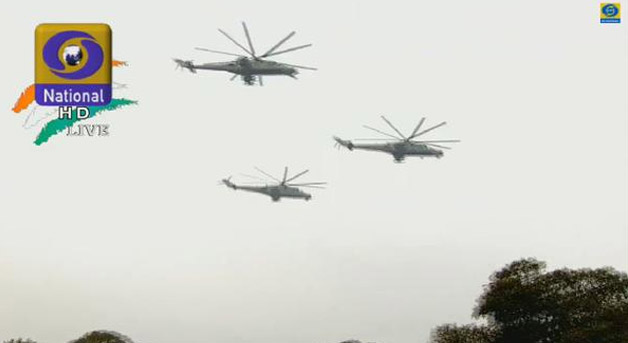 11:58 am: Motorcycle display by the Border Security Force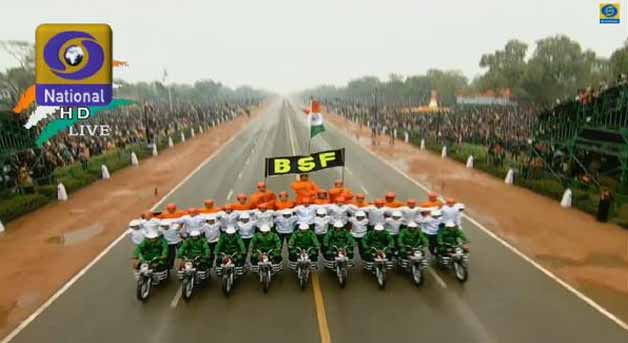 11:55 am: 155 students from Kendriya Vidyalaya, RK Puram performing a dance based on 'Tejasvi Yuva Shakti' which reflects full strength, energy and potential of youth
11:50 am: 83 girls and 77 boys from South Central Cultural Zone, Nagpur performing a folkdance in the 'Lezim' format. 'Lezim' is purely a Maharashtrian game
11:45 am: 170 girls and boys from Red Roses Public School, Saket presenting a dance in multicolour attires celebrating India's first successful launching of spaceship 'Mangalyaan' into the orbit of planet Mars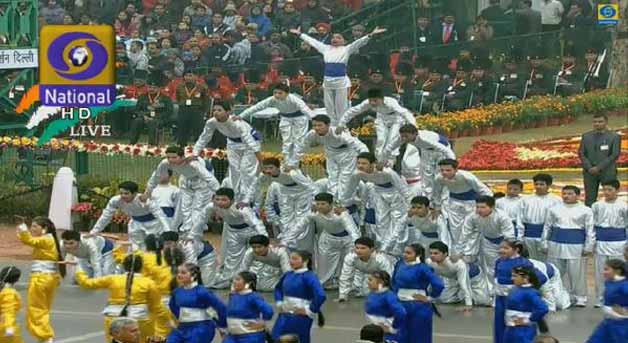 11:40 am: 136 students from Govt. Girls Senior Secondary School, Nathu Pura, Delhi performing 'Swachh Banaye Bharat Dance' in which students are appealing to make every path, every town and every home neat and clean so that it appears to be a visible heaven on earth
11:35 am: Children belonging to a school from Udaipur coming under West Zone Cultural Centre, performing Gujarat's 'Daang Adivasi Holi Nritya'. This dance is performed by young male and female accompanied by their instrument sarnai, kahlya and Dholki
11:32 am: 180 girls from Govt. Girls Senior Secondary School, Janakpuri performing 'Gondhal Dance' at Rajpath
11:30 am: All 24 children who won the National Bravery Awards are at Rajpath
The Government of India honoured 24 children who distinguish themselves by performing outstanding deeds of bravery and meritorious service and inspire other children to emulate their examples
11:25 am: Make In India's float on display at Rajpath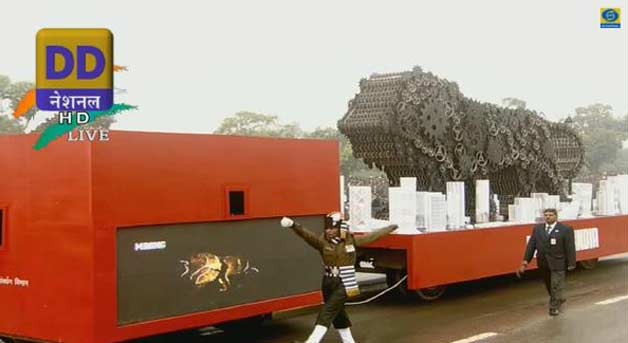 11:21 am: Gujarat's float featuring Sardar Vallabhbhai Patel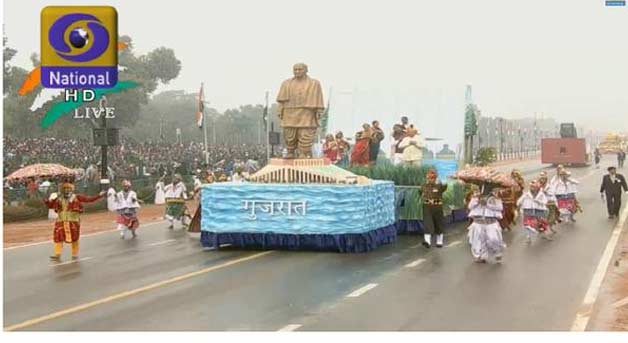 11:15 am: Floats representing various Indian states now marching down Rajpath
11:05 am: The only camel mounted band in the world, of the BSF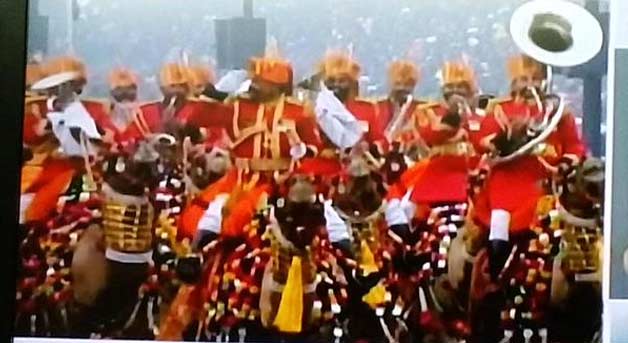 10:50 am: Indian Navy's all women contingent smartly marches at the Rajpath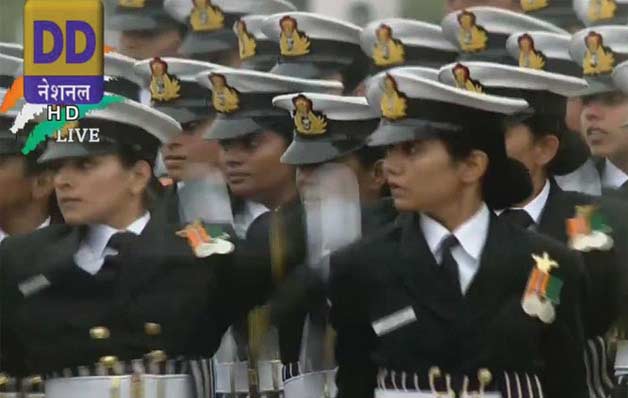 10:40 am: Woman power on display as women officers lead display
10:30 am: Army's Pinaka rocket systems, BrahMos and Akash missile systems on display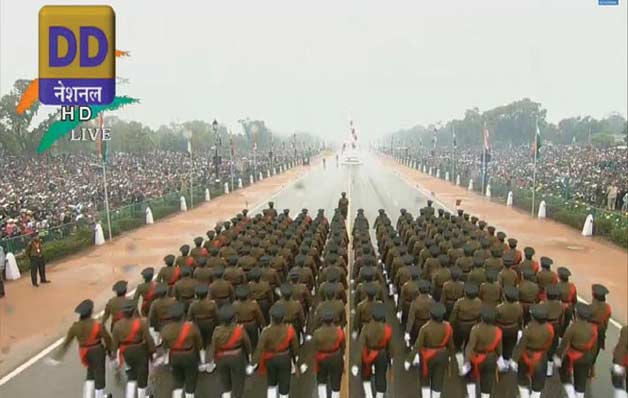 10:25 am: Forces display ingeniously developed missiles
10:21 am: Lieuetenant-General Subroto Mitra leads the parade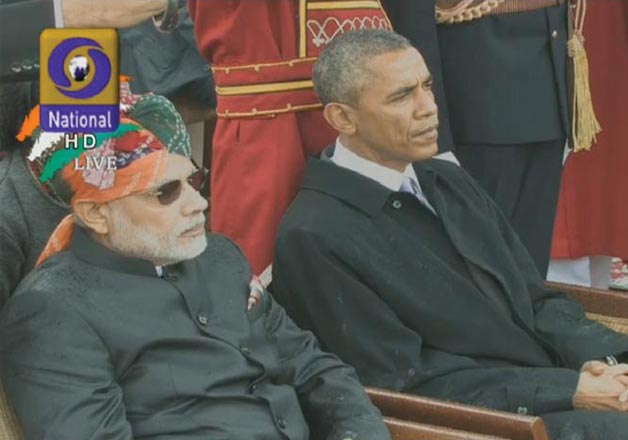 10:20 am: 66th Republic Day parade begins at Rajpath
10:16 am: President Mukherjee presents Ashok Chakra to Neeraj Kumar Singh, Mukund Varadarajan
Naik Neeraj Kumar Sing of 57 Battalion of Rashtriya Rifles (13 Rajputana Rifles) and Major Mukund Vardarajan of 44 Battalion of the Rashtriya Rifles honoured with the nation's highest peacetime gallantry award Ashok Chakra. 
10:10 am: President Pranab Mukherjee unfurls the national flag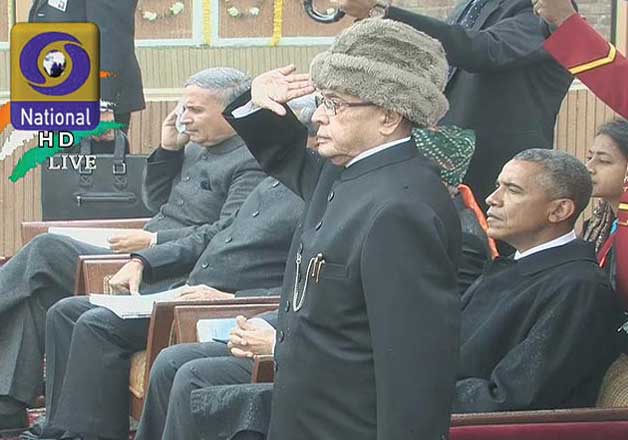 10:05 am: President Pranab Mukherjee arrives at Rajpath
09:55 am: Chief Guest Barack Obama arrives at Rajpath
In a departure from tradition, the Chief Guest at the Republic Day parade, US President Barack Obama, arrived in his own highly-secured bomb-proof vehicle, 'The Beast,' at Rajpath. The Republic Day Chief Guest normally travels with the President of India in his car from Rashtrapati Bhawan. Obama, along with wife Michelle, was received by Vice President Hamid Ansari and his wife Salma, Prime Minister Narendra Modi and Defence Minister Manohar Parrikar.
09:45 am: PM Narendra Modi payes homage to the war heroes at Amar Jawan Jyoti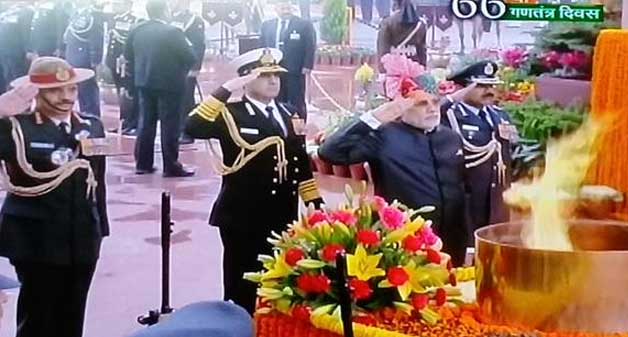 Modi paid tribute to the unknown soldier at the India Gate war memorial. After Modi laid a wreath at the eternal flame to the unknown soldier, the buglers sounded the Last Post and two minutes of silence was observed. Modi then signed the Visitor's Book and headed back to the saluting base on Rajpath to welcome President Pranab Mukherjee and US President Barack Obama, the chief guest on the ocassion. Defence Minister Manohar Parrikar, Minister of State for Defence Rao Inderjit Singh, and the three Services Chief were also present at India Gate.
9:30 am: Defence Minister Manohar Parrikar arrives at India Gate
8:45 am: PM Narendra Modi greets nation on Republic Day

The entire city has been turned into a fortress. 15,000 security cameras have been installed in the city.
India was freed from the British rule on 15th August 1947 but it continued to be governed by the Government of India Act 1935, which was a relic of the British era.