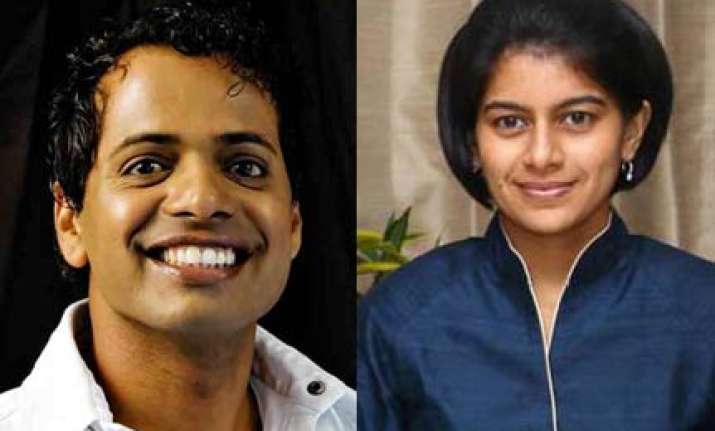 New Delhi:Two of the most well-known families in corporate India, Murthys and the Srinivasans are firming up their ties, literally. Infosys founder Narayana Murthy's son Rohan Murthy got engaged to Lakshmi Venu, the daughter of TVS Motor Co Chairman and Managing Director Venu Srinivasan last week.  
"Both I and Sudha are very happy about Rohan and Lakshmi's decision to come together. Knowing that both are very smart people, they will make the most of it," a delighted Narayana Murthy told PTI. Murthy, who flew down to Chennai this morning, however, did not comment on the possible date of marriage.  
The bride-to be's father, Venu Srinivasan, accepted the good wishes on his daughter's engagement, but he also did not reveal the marriage date.  
Rohan Murthy, 27, is a Microsoft fellow, pursuing PhD in Computer Science from Harvard University. He is an engineering graduate from Cornell University and has completed schooling from Bishop Cotton Boys' School in Bangalore.  
Lakshmi, 27, has a degree in Economics from Yale University and a PhD in manufacturing management from Warwick University in the UK. In Chennai, she did her schooling at Shishya. She has maintained a keen interest in the family business and has been groomed to take greater responsibility in Sundaram Clayton (an auto component maker) and TVS Motor (India's third largest two-wheeler company).  
Her mother Mallika Srinivasan is the vice-chairman of Tractors and Farm Equipment (TAFE), which crossed a consolidated turnover of Rs 4,850 crore and a volume of over 100,000 tractors last year.
The Murthy family has about 4.5 per cent of the shares of Infosys Technologies, which has a market capitalisation of Rs 164,368 crore. Rohan reportedly has 1.39 per cent with over 79 lakh shares in the company that his father co-founded. PTI