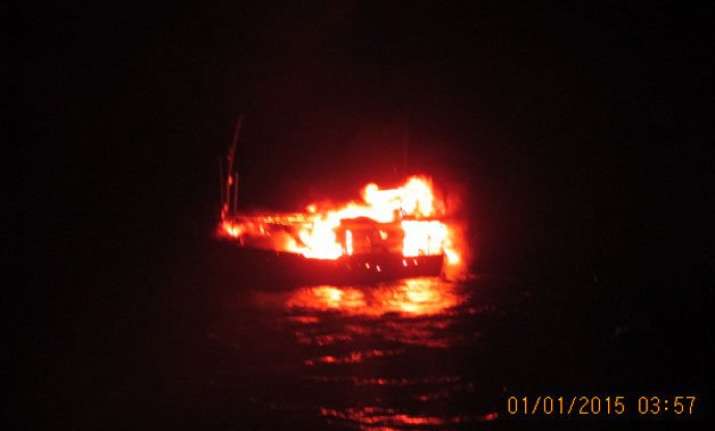 New Delhi: Wireless intercepts from the technical intelligence agency NTRO shows that the two Pakistani fishing boats were in frequent touch with Pakistani Army and Maritime Security Agency of Pakistan through a "contact".
Sources privy to the intercept communications claimed that the "contact" also spoke to someone in Thailand on frequent basis.
Through an intercept, received at around 8:30 am on December 31, Coast Guard was made aware of the "suspicious boats" heading towards Indian waters from Keti Bandar near Karachi.
The coast guard sent a Dornier reconnaissance aircraft and diverted a patrol vessel ICGS Rajratan towards the suspected area.
By afternoon, one of the boats was identified while the other could never be traced.
According to a source, "While the first boat was sinking, another intercept from the second boat said that they were heading back after finishing the task. Speculations are that they could have been involved in a mid-sea transfer of arms and ammunitions."
The Defence ministry said that travellers were thwarted from carrying out "a possibly dangerous mission" in "a well-coordinated operation" between NTRO and Coast Guard.
"The four people on board either went down with the ship or jumped into the sea after setting it afire," said an official.
He further added, "It was rogue boat, which repeatedly ignored warnings to stop, switched off its lights and tried to speed away in an area where Pakistani fishing vessels do not usually come. It's easy to raise questions about the operation but can one imagine what would been the consequences if the boat had managed to evade the security net".
The Coast Guard regularly intercepts Pakistani fishing boats when they come into our waters without shots being fired or people being killed. This vessel, however, behaved very suspiciously. No fishing nets were down, neither were the people dressed like fishermen."
Also, Pakistani fishing boats usually operate in the areas around Sir Creek region, rarely venturing in the area where the suspicious boats were found.
While the truth is yet to be known, however, the infiltration has raised alerts for the security officials along the Gujarat Coast line as the Pravasi Bharatiya Divas and Vibrant Gujarat Summit are slated for the forthcoming weeks of January.