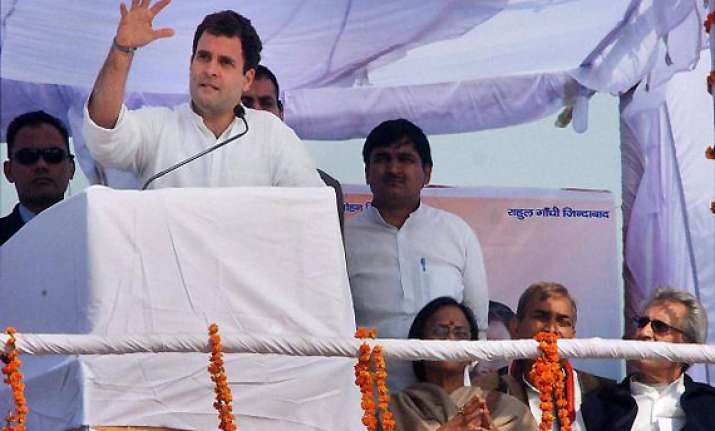 Ballia/Deoria (Uttar Pradesh), Jan 9: Targeting SP leader Mulayam Singh Yadav, Rahul Gandhi today accused him of misguiding Muslims on the reservation issue and urged the people to give a chance to Congress to usher in a corruption-free and development-oriented government in UP. 

Addressing election rallies in Ballia and Deoria, Gandhi said the SP chief sometimes demands 18 per cent reservation quota and at other times 28 per cent quota for them. 

Gandhi also said Yadav had vowed not to align with former chief minister Kalyan Singh but had later backtracked. 

"Mulayam Singhji had stated that he would never tie up with Kalyan Singh but did the same for political gains and now he is misguiding Muslims on the reservation issue", Gandhi, who is on the third day of his five-day visit, said. 

Rubbishing Samajwadi Party's election slogan "umeed ki cycle", he said that people of the state have not forgotten the "misgovernance" of the previous SP government. 

"Mulayam Singh Yadav says that he has umeed ki cycle.  You relied on this cycle thrice but what did you get? What is the meaning of umeed ki cycle. Is this a joke ? Are the people unaware of the reality", he asked.

Attacking BSP, BJP and SP for the backwardness of Uttar Pradesh, Gandhi said only Congress can bring a change that will benefit the people in all aspects.

"BJP, BSP and SP have done nothing for you. You have given them 22 years. Give us five years. The state will begin to change. We will change Uttar Pradesh," he said in Ballia. 

At Deoria, where he addressed another election rally in the day, Gandhi repeated his charge that huge amounts of central funds were being misutilised by the Mayawati government.

"There is an elephant in Lucknow. This is a typical elephant. While ordindary elephants live on grass, this elephants eats up people's money. This is the first elephant that eats up the money of the poor," the AICC general secretary said drawing cheers from the crowd.

Gandhi said that when the UPA was launching MNREGA, the leaders from NDA and BSP raised doubts over it. 

"Mayawati ji then began saying the scheme will not help the poor. People in Haryana, Andhra Pradesh and Kerala will benefit but not in UP. Those who gave the slogan of Indian shining asked from where this money will come?  Hitting out at the BJP for its slogan of India Shining during the 2004 Lok Sabha polls, Gandhi said anybody, who has visited a village will be ashamed to say such things. 

Gandhi also criticised Mayawati and Yadav over their statements that the Centre's decision to give OBC Muslims' reservation should have been more in percentage and asked "why don't they mention it in their manifesto, when they say it.  They will not write, they will not do it."

He said that in the 2007 elections, people were angry with the then SP government over issues like atrocities on women, goonda raj in police stations and lack of development and they elected Mayawati but BSP government also cheated them.

The Congress leader said he has been touring villages and houses of the poor as he has learnt a lot from such visits. 

"I learn from you but Mayawatiji does not learn from you, Mulayam Singh does not learn from you," he said. 

Gandhi said that after Congress got 22 seats in 2007 assembly elections in UP it was thought that the party cannot regain its ground but in 2009 lok sabha election it emerged as the biggest party. "What will happen in 2012 has to be seen", he said.