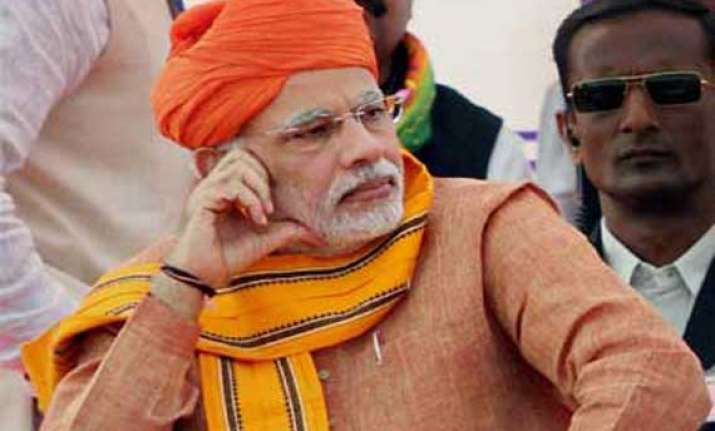 Hyderabad: BJP's PM nominee Narendra Modi will address at least four public meetings along with N Chandrababu Naidu whose TDP is an alliance partner of NDA in Telangana region on April 22.
Telangana goes to polls on April 30.
Jana Sena founder and Telugu film star Pawan Kalyan will share the dais with the two top leaders.  Kalyan has already pledged his support to Modi and BJP.
The Modi-Chandrababu-Kalyan trio will address election rallies at Karimnagar, Nizamabad (or Nirmal in the same district), Mahbubnagar and Secunderabad on April 22, TDP sources said.
Union Minister S Jaipal Reddy is contesting as Congress candidate in Mahbubnagar while TRS president K Chandrasekhar Rao's daughter Kavita is in the fray from Nizamabad.
Besides Telangana, the trio will also campaign for the TDP-BJP combine in coastal Andhra and Rayalaseema regions that form part of Andhra Pradesh.
They may address rallies at Visakhapatnam, Vijayawada and Anantapuram on May 2, as per a tentative schedule.  "The tour schedule in Seemaandhra is not confirmed yet but the tentative date is May 2 as the region goes to polls on May 7," a TDP leader said.
Pawan Kalyan, the youngest brother of Union Minister K Chiranjeevi, campaigned for BJP in Kolar and Raichur in neighbouring Karnataka today.