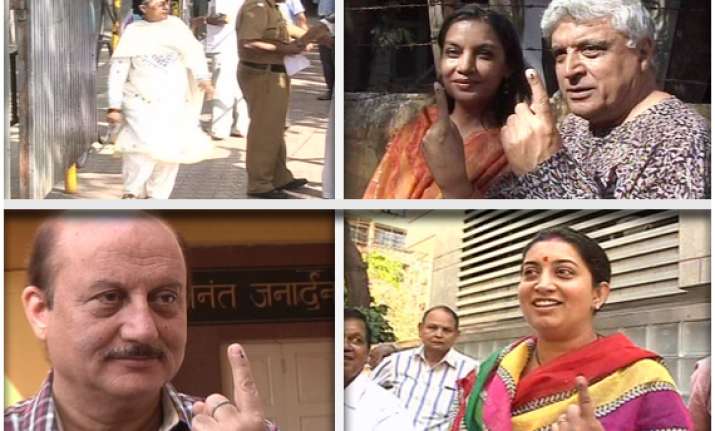 Mumbai, Feb 16: Moderate to heavy polling was recorded for the Brihanmumbi Municipal corporation elections today with Bollywood stars coming out in full force.
 
Voting ended at 5.30 pm and the fate of 2,232 canidates for 227 seats was sealed inside EVMs.
Following are the voting figures for different municipal corporations today:

Mumbai 46 pc, Thane 52 pc, Ulhasnagar 43 pc, Pune 53 pc, Solapur 58 pc, Pimpri-Chinchwad 56 pc, Nashik 58 pc, Akolia  57 pc, Amravati 58 pc and Nagpur 55 per cent.

Bollywood personalities Jaya Bachchan, Shakti Kapoor, Javed Akhtar, Poonam Sinha, Suzanne Roshan, Kumar Gaurav, Namrata Dutt, Mandira Bedi, Aamir's ex-wife Reena were among the voters who cast their votes.

Nearly 41,000 BMC employees were present for polling work at 8,326 polling booths. More than 24,000 security personnel were deployed to ensure peaceful voting.
Counting will begin on Friday morning.

The BJP-Shiv Sena, which has been ruling the BMC for the last 17 years, is trying its best to maintain its hold. The main rival is the Congress-NCP combine.

Congress is contesting 169 seats, while ally NCP is contesting 58 seats.
Thackeray versus Thackeray battle has hotted up the police scene, with Raj Thackeray's Maharashtra Navniram Sena posing a major challenge.

Voting is also in progress for Nagpur, Thane, Pune, Pimpri-chinchwad, Nashik, Ulhasnagar, Solapur, Akola and Amrapati municipal elections.

 
A total of 9,732 candidates are in the field for these 10 municipal corporations.
 
There are 1,282 candidates for Nagpur, 802 candidates for Thane, 1180 candidates for  the 152 wards of Pune, 505 candidates for 78 seats in Ulhasnagar, 562 candidates for 102 sets in Solapur and 951 candidates for 122 seats in Nashik.

The prestiges of Bal Thackeray's family in Mumbai and adjoining areas, that of Sushil Shinde in Solapur, Chhagan Bhujbal in Nashik and BJP president Nitin Gadkari in Nagpur are at stake.