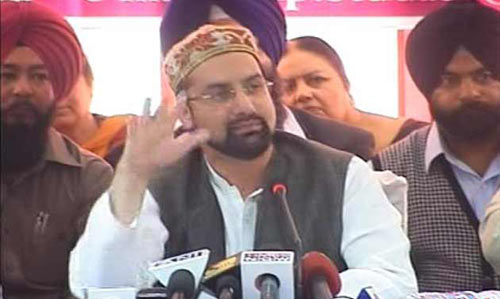 Chandigarh, Nov 25: Hurriyat Conference leaders Mirwaiz Umar Farooq and Bilal Lone were today heckled allegedly by activists of right-wing Hindu organisations and Kashmiri Pandits during a seminar here after which 21 people were arrested for rioting.
There was commotion when the activists from among the audience charged at Farooq, who was seated on the dais along with Lone. At that time, a person, believed to be a journalist, had got up to put a question to the Mirwaiz who was speaking.
Scores of people had gone inside the hall at Kisan Bhavan here which barely had a seating capacity of 50-60. And making matters worse, nearly 30 people sat in the vacant space in front from where the Mirwaiz was addressing.
During the pandemonium, some of the activists manhandled the two separatist leaders and the commotion continued inside the hall for nearly 10 minutes before police stepped in and cordoned off the dais and took the Hurriyat leaders to safety.
In the melee, the activists punched Farooq, who fell from his chair. The activists smashed the window panes of the seminar hall by throwing flower pots kept and shouted slogans.
"Twenty people, including seven women, were arrested for rioting and we are examining video tapes of the event," Chandigarh SSP Naunihal Singh said.
Among those who have been arrested include several activists of BJP and all those arrested were later released.
When the activists were taken to the police station, some local BJP leaders held a protest against their arrest.
A strong posse of policemen was put on duty at the Sector 36 police station to disperse the BJP and VHP activists. Police also resorted to baton charge and used force to disperse the BJP activists.
The seminar on 'Kashmir Problems in Reference to Indo-Pak Relations' was organised by Internationalist Democratic Party of Jammu and Kashmir.
The incident comes over a month after a shoe was thrown at hardline Hurriyat leader Syed Ali Shah Geelani during a seminar in Delhi on October 21. The shoe missed Geelani, who was seated on the dais. The seminar had also witnessed protests by a group of people including Kashmiri Pandits.
The seminar resumed after the police brought the situation under control and Mirwaiz began his address and also answered few queries from journalists. He said he was fine and had not sustained any injury.
He termed the incident as unfortunate and said those who termed them as anti-nationals "must understand that it is in everybody's interest that solution to the Kashmir problem is found".
A Kashmiri Pandit leader claimed that security personnel had thrashed some of their activists by holding them responsible for the melee. PTI