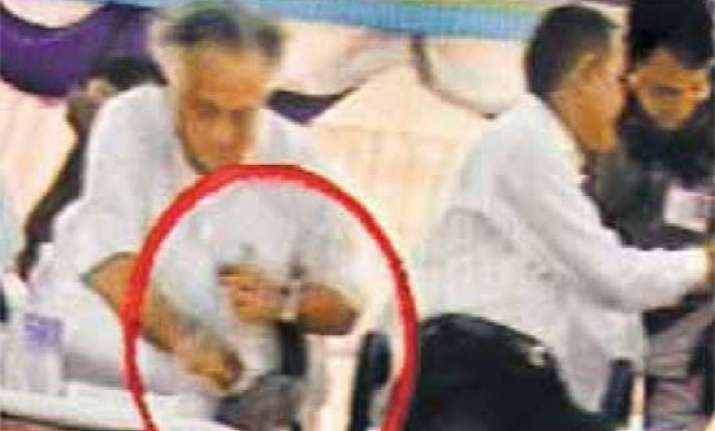 Jaipur, July 26 : Union minister for Panchayat Raj Jairam Ramesh shocked everyone on Monday when he wiped his shoes with a garland of spun cotton given to him as a welcome gesture by Congress office-bearers at a state event on Monday, reports DNA.

The cotton garland, symbolic of Mahatma Gandhi's iconic spinning khadi wheel was offered to him at the inaugural function of housing scheme for BPL families in rural areas, held at Kolayat in Bikaner.

Senior Congress leaders, including chief minister Ashok Gehlot, were present at the launch ceremony of the government scheme.

According to eyewitnesses, Ramesh took out his garland and placed it on the table. After sometime, he bent over and took the garland to clean his shoes.

The state BJP was quick to criticise the Union minister's act terming it as an insult to Gandhi and the hospitality of the people of Rajasthan.

BJP MLA, Digambar Singh said, "His act is disrespectful; it is an insult to Mahatma Gandhi and has hurt the sentiments of people."State Congress president Chandrabhan could not be contacted for comments.