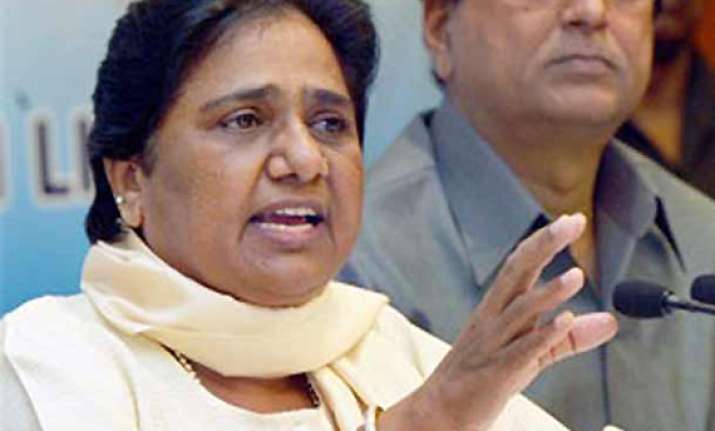 Lucknow, Dec 25: In a drastic Christmas Day action, Uttar Pradesh chief minister Mayawati sacked four of her senior ministers - Rakesh Dhar Tripathi, Rajpal Tyagi, Avadhesh Verma and Hari Om, and also dropped 25 sitting MLAs from the party candidates list.

A Raj Bhavan notification said, Higher Education Minister Rakesh Dhar Tripathi, Agricultural Education Minister Rajpal Tyagi, MOS (Independent Charge) OBC Welfare Avadhesh Kumar Verma and Minister of state for Home Guards Hari Om have been dropped from the ministry, and their portfolios have been reallocated.

Number Two  in UP ministry Nasimuddin Siddiqui, a close confidante of Mayawati, gets additional charge of Higher education, Indrajit Saroj gets additional charge of OBC Welfare,  and Laxmi Narayan gets additional charge of Agriculture education, the notification said.

BSP sources said, this was beind done in order to project a clean image  of the party on the eve of  February assembly polls. 25 sitting MLAs of the party have been denied tickets for the February polls.

With today's dismissal of four ministers, the number of ministers so far sacked by Mayawati mounted to eleven.

All the four ministers were facing Lokayukta inquiry for corruption.

Sources said that the Lokayukta, NK Mehrotra, has got enough evidence against the ministers and may submit his report anytime, indicted them for corruption. Besides corruption charges, Hari Om is also facing charges of kidnapping and the CBI is investigating the role of Rajpal Tyagi for his alleged role in a fake encounter.

Maywati's close confidante Nasimuddin Siddiqui  and his MLC wife are also under the Lokayukta's scanner, reports said.

The Lokayukta is also proving corruption charges against two more ministers Laxmi Narain and Indrajit Saroj.

The four ministers who were sacked today had already got whiff of their dismissal and were in touch with other parties for the last several weeks in order to get an Assembly ticket.

Earlier, in April, Mayawati had sacked health minister Anant Kumar Mishra and family welfare minister Babu Singh Kushwaha after the scam in National Rural Health Mission surfaced followed by murders of two chief medical officers in Lucknow.

Five other ministers were also sacked in last one year after being indicted by the Lokayukta -- religious affair minister Rajesh Tripathi, animal husbandry minister Awadhpal Singh Yadav, secondary education minister Rangnath Mishra, labour Badshah Singh and ambedkar village development minister Ratan Lal Aheerwar.

Nearly, 40 per cent of ministers in Mayawati's cabinet are facing Lokayukta probe on corruption charges. Besides indicting some ministers for corription, the Lokayukta so far has also dropped charges against seven ministers for want of evidence.