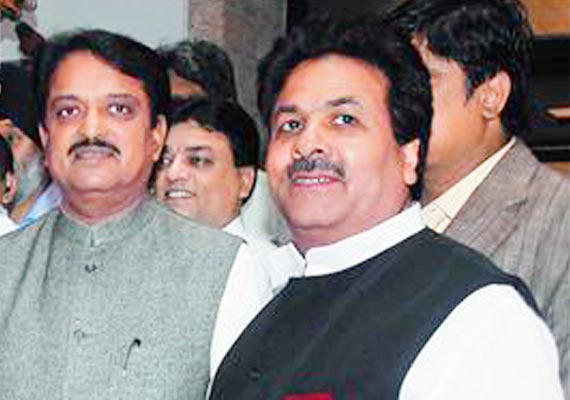 New Delhi, Mar 22: Union Ministers Vilasrao Deshmukh, Rajiv Shukla, Mukul Roy, BSP chief Mayawati and BJP leader Arun Jaitley were today elected unopposed to Rajya Sabha even as NRI businessman Anshuman Mishra in Jharkhand and Congress leader Abdul Mannan in West Bengal withdrew from fray.
While most of the 15 states where the biennial polls to the upper house are being held saw uncontested election of members, the two exceptions are Uttarakhand, where ruling Congress will take on opposition BJP for a lone seat, and Jharkhand where five candidates were left vying for 2 seats in the elections scheduled for March 30.
Hours before the deadline for withdrawal of nominations for the biennial polls in 15 states ended this evening, London-based businessman Anshuman Mishra, whose candidature was proposed by six BJP MLAs sparking resentment among the party's senior leaders, withdrew his nomination.
Mishra dropped out facing the prospect of defeat in the polls after several senior BJP central leaders revolting against his nomination which reportedly had the backing of party chief
Nitin Gadkari
.
In Uttarakhand, decks were cleared for a showdown between Congress candidate Mahendra Singh Mahra, a confidante of dissident party leader Harish Rawat, and BJP nominee Anil Goyal whose party colleague Naresh Bansal opted out of the race on the last day of the withdrawal.
BJP is hoping to cash in factionalism within Congress especially in the wake of revolt by Harish Rawat, union minister, against the appointment of Vijay Bahuguna as Uttarakhand Chief Minister.
In West Bengal, Mannan pulled out of fray following a directive from Congress central leadership, avoiding a possible face-off with its ruling coalition partner Trinamool Congress and facilitating unchallenged win of Railway Minister Mukul Roy and 3 other candidates of TMC. A lone opposition CPI(M) nominee was also elected.
In Uttar Pradesh, all the 10 candidates, including Mayawati, BJP's Vinay Katiyar and actress Jaya Bachchan of Samajwadi Party were elected unopposed.
With a strength of 224 MLAs in 403-member assembly, members, 6 members of ruling SP have emerged victorious as have 2 of BSP and one of Congress.
Jaitley was elected from Gujarat for his third successive term in the upper house from the state.
Deshmukh and Shukla of Congress, NCP's D P Tripathi and Vandana Chavan, BJP's Ajay Sancheti and Shiv Sena's Anil Desai were elected uncontested in Maharashtra where voting was averted by withdrawal of Pune-based builder Sanjay Kakade and Prakash Binsale, a third NCP candidate, from the fray.
In Madhya Pradesh, Najma Heptullah and cash-vote-for scam accused Faggan Singh Kulaste are among 4 BJP nominees elected unopposed besides the lone Congress nominee Satyawat Chatruvedi, the party's spokesman.
Superstar-turned-politician Chiranjeevi, former Union Minister Renuka Choudhary (both from Congress) and former state Home Minister T Devender Goud of Telugu Desam Party were elected unopposed in Andhra Pradesh along with three others.  Of the 6 seats in the state, 4 went to Congress and 2 to TDP.