Follow us on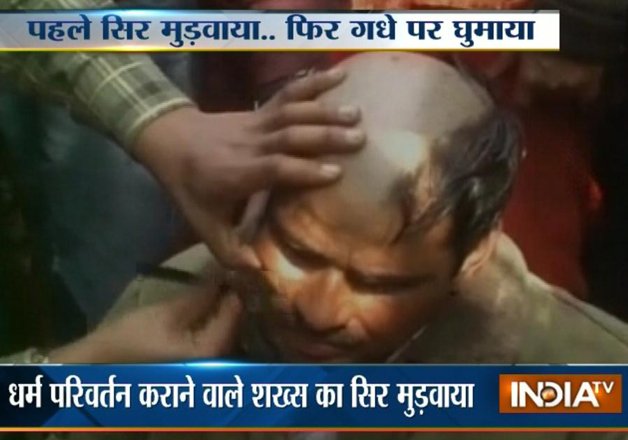 New Delhi: A man was tonsured, garlanded with shoes and paraded on donkey on the streets of Jalaun in Uttar Pradesh by Bajrang Dal activists who accused him of converting Hindu men to Christianity.
According to police, the victim, identified as Awdhesh, is a resident of Randar in Jalaun district. Police said that nearly 200 men reached the house of Awdhesh and took him to Orai, the district headquarter.
The mob, police said, shaved Awdhesh's hair, eyebrows and moustache and garlanded with shoes and paraded through the town.
The mob said that Awdhesh lured 3 Hindu men to a church in Mirzapur district on the pretext of attending a satsang and converted them to Christianity.
Sangam Jatav, one of the Hindu men, alleged that Awdhesh took him to Mirzapur for a satsang and also on the pretext of getting a good job but forcefully converted him to Christianity without his knowledge.
Bajrang Dal activists also claimed that all the three were forced to consume beef against their will and pictures of Hindu gods and goddesses were thrown on the floor and the converted Hindus were made to walk on them.
Deputy inspector general (DIG), Jhansi range, Sharad Sachan said 3 FIRs had been lodged including two against Bajrang Dal activists.