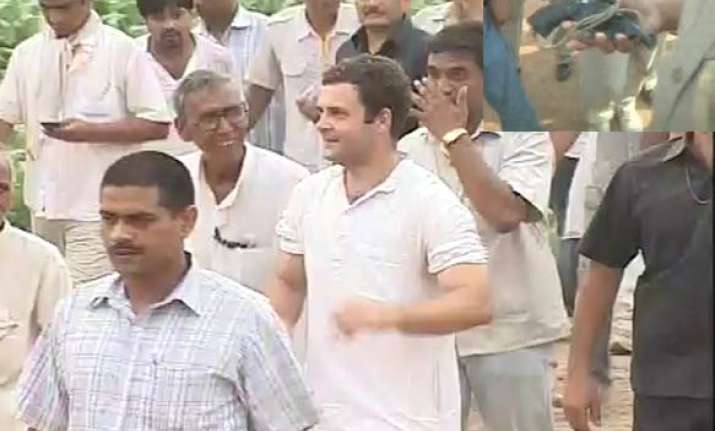 Tappal (UP), Jul 7: A young man carrying a revolver was today detained while trying to move close to Congress leader Rahul Gandhi during his padayatra to Aligarh in Uttar Pradesh.

The man with a .32 bore revolver was nabbed by the Special Protection Group (SPG) personnel in this village in Aligarh district when he was found nearing the second ring of the Congress leader's security cordon.

Hari Mohan Sharma was nabbed by the SPG personnel at around 8.30 AM and was immediately handed over to the Uttar Pradesh Police. Locals said he belongs to Tappal village and claimed that he is a Congress worker.

The incident took place two hours after Gandhi resumed his footmarch to Aligarh to make common cause with farmers in the state over land acqusition. Today's is Gandhi's third day of padayatra.

SSP Singh said that as a professional police officer he can say that "proper" security norms for Rahul's padayatra have not been followed at all.

He said Sharma belonged to nearby Udaipur village and that he was passing by in his own Alto car with his wife when he saw some VIP movement.

"It was by chance that he(Sharma) was passing through that route. He stood there just out of curiousity to meet the VIP. He got out of anxiety. It was out of chance that he was carrying his licensed weapon, a revolver. The SPG personnel caught hold of this man and handed him over to the local police," he said.

Referring to Rahul's unannounced movement, Singh said "We do not know the route he is taking, the places he is going to visit, the places he is going to halt. So it is a free for all kind of a thing."

Singh further said that the persons surrounding Rahul are not security cleared.

"They have not been frisked or checked. It is the job of the local police but for that we must be informed of the route he is going to take. All these routes should be cleared and sanitised," he added.

Union Minister Ambika Soni today sought "proper" security for Rahul Gandhi.  "The security for people like Rahul Gandhi must be taken care of and proper steps taken," Soni said when asked about the incident.

The man with a licensed .32 bore revolver was nabbed by Special Protection Group personnel accompanying Rahul, when he was found heading towards the second ring of the AICC General Secretary's security cordon.

However, a senior police officer SSP Satyendra Vir Singh ruled out any malafide, saying "It is not blatant security breach. The man is a properly verified person. There is nothing adverse against him in the police records ...."

Rahul is in Tappal on the third day of his padayatra and was headed towards Aligarh town for the Congress-backed 'kisan mahapanchayat' on Saturday.

Five persons, including a policeman and four farmers, were killed in violent protests at Tappal last August during a land agitation by farmers.