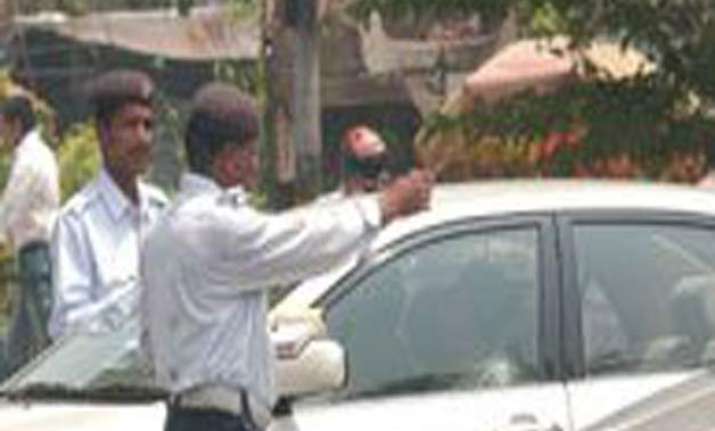 Meerut: In a peculiar incident that happened in the Hasanpur Area of Meerut city, a man was challaned for not wearing a helmet in car.
The incident happened on Sunday evening, when Shailender Singh, 43,  was crossing Hasanpur Area with his 4-month-old son. He had to take the kid to a doctor. However, while he was on his way, he was abruptly stopped by a traffic police officer who asked for his car papers.
Without a doubt, Singh presented his papers which were all in order. But, the cop for no valid reason, still stopped him, had a heated discussion with him and in the absence of no concrete reason, inexplicably, challaned him for not wearing a helmet knowing well that he was not driving a two-wheeler.
A step ahead the cop even put Singh's Maruti Swift car's registration number also on the challan receipt.
Finally, the aggrieved driver had to reach the Senior Superintendent of Police (SSP) of the area who ordered an inquiry into the matter.
Upon asking the cop Shivraj Singh about the reason of such a weird act, he simply said that the matter was being blown out of proportion though it is just a technical mistake unknowingly made by another cop who actually made the challan.
As per a report in Times of India, the cop said, "We stopped Shailender Singh because we found him talking on the mobile phone while driving. We had to therefore challan him. I asked the chowki in-charge of Hasanpur, Bachan Singh, to issue a challan. However, the official, by mistake, charged him for not wearing a helmet whereas the challan should have been issued for talking on the mobile phone while driving. It was an error and not done deliberately."
Meanwhile, the SSP, DC Dubey, had directed the SP (traffic) to look into the issue. He stated, "If this incidence is found to be true then an appropriate action will be taken against the erring official."