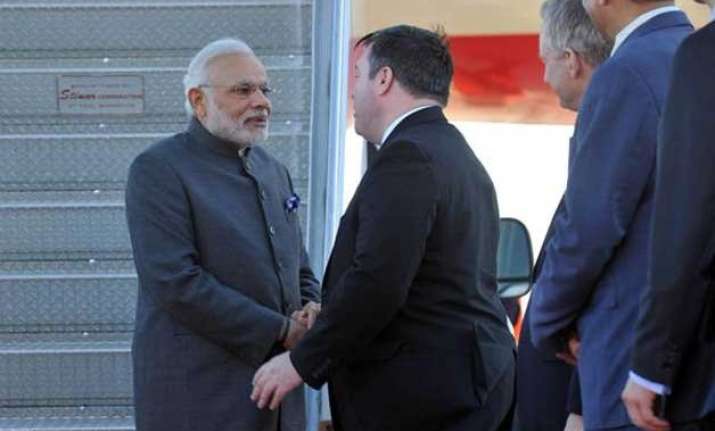 1. PM Narendra Modi to receive ceremonial welcome in Ottawa
Prime Minister Narendra Modi will be given ceremonial welcome in Ottawa today and later in the evening he will travel to Toronto to address the Indian diaspora at Toronto's Ricoh Coliseum. 
2. Janata Parivar Merger: Six parties to meet today
Six parties from the erstwhile Janata Parivar are set to merge today under the leadership of Mulayam Singh Yadav, a development which comes ahead of Bihar Assembly elections slated later this year and the 2017 Uttar Pradesh Assembly polls.
3. Nitin Gadkari to address BJP Kisan rally 
Union Minister of Road Transport and Highways Nitin Gadkari will today address BJP Kisan rally at DDA Ground DWARKA at 5pm. Delhi BJP President & all party MPs are to be present at the rally.
4. Vyapam scam: Digvijay Singh to record statement before SIT
Senior Congress leader Digvijay Singh will today record his statement before the SIT investigating the Vyapam scam.
5. 2G case: Special court to hear final arguments from today
The final arguments in the 2G spectrum allocation scam case, in which ex-Telecom Minister A Raja, DMK MP Kanimozhi and others including some top corporate executives are facing trial, are likely to commence today before a special court in Delhi.
6. Constitution Bench to hear pleas against NJAC Act
A five-judge Constitution Bench of the Supreme Court will from today hear a batch of petitions challenging the validity of the law to replace the collegium system of judicial appointments.
7. Athawale to lead protest against beef ban in Maharashtra 
Republican Party of India (Athawale), an ally of ruling BJP, asked the Maharashtra Government to have a rethink on the expanded beef ban law and announced a state-wide protest against the legislation, which it said ignores economic welfare of farmers. 
RPI chief Ramdas Athawale will today lead the protest in Mumbai. 
8. Geelani calls for Tral shutdown 
A day before he is returning to Srinagar from New Delhi, Hurriyat (G) chairman, Syed Ali Geelani called for a complete shutdown in Tral and adjoining areas on Wednesday against the "cold blooded murder" of a civilian Khalid Wani.
9. Jagan to go on bus yatra from today
President of YSR Congress Y.S. Jaganmohan Reddy will kick start a three-day bus yatra in Andhra Pradesh to interact with farmers on the status of irrigation projects on Godavari and Krishna rivers.
10. Contract teachers give Bihar bandh call
Members of Bihar Rajya Niyojit Shikshak Sangh Morcha have given a call for Bihar bandh on April 15 to press for regularization of their services and pay parity. 
11. Maharashtra bypoll counting today; result crucial for Rane
Counting of votes for by elections in assembly constituencies of Bandra East, Tasgaon(Maharashtra), Dhuri(Punjab), Charkhari, Pharenda, Rasara(Uttar Pradesh) and Bhagwanpur (Uttarakhand) will be proceeded today. 
12. Govt to change name of visa on arrival scheme to e-tourist visa
The newly-launched tourist visa on arrival scheme will be known as e-Tourist Visa from today with government making the change following requests from various quarters.