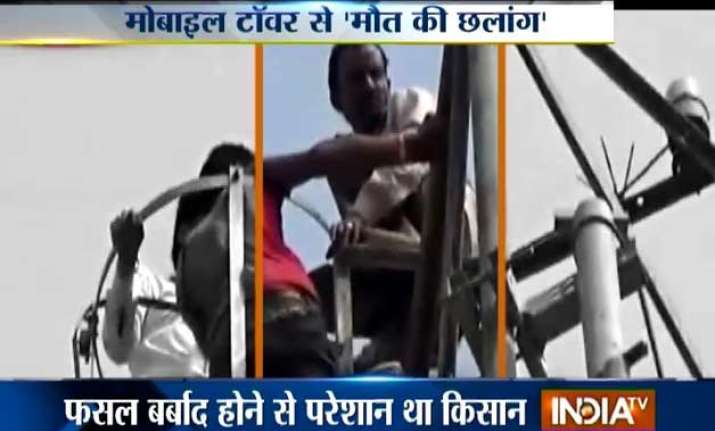 Meerut: A magisterial inquiry has been ordered into the suicide by a debt-ridden farmer who jumped from a mobile tower today, as police, officials and villagers tried in vain to dissuade him.
The deceased, Yogendra Kumar, a resident of Rasulpur Danthala village of Kharkhauda, was in debt as he had taken money from private lenders, and committed suicide by jumping from the mobile tower belonging to a private company this afternoon.
A magisterial inquiry by Deputy District Magistrate, Sadar, Ravish Gupta into the incident, has been ordered, District Magistrate Pankaj Yadav said.
A team led by Gupta reached the spot where the incident took place and investigated the matter.
Kumar had cultivated 5 bigha of land out of which crop on 3 bigha land was damaged in the recent unseasonal rain whose assessment by the district authorities was already done and a report had been sent in this regard, Gupta said.
According to preliminary investigation, Kumar, a father of three, had taken about Rs 3-4 lakh as loan from private lenders in the village.
He was unable to pay the debt and this is said to be reason behind his taking the extreme step, Gupta said.
Gupta informed that the fence of the tower from which Kumar jumped was broken due to which the farmer was successful in climbing it and an FIR has been lodged against the private tower operator in this regard.
Also, all mobile tower operators have been directed to mend the fences of their respective towers so that a similar incident does not take place in future, he said.
Earlier, District Collector Pankaj Yadav had said that the farmer was demanding government assistance.
Locals said Yogendra had about 1.5 hectares of land and he was upset as his wheat crop had been destroyed in the recent unseasonal rains.
His family is being given Rs two lakh as immediate assistance from the Chief Minister's fund, Yadav had said.