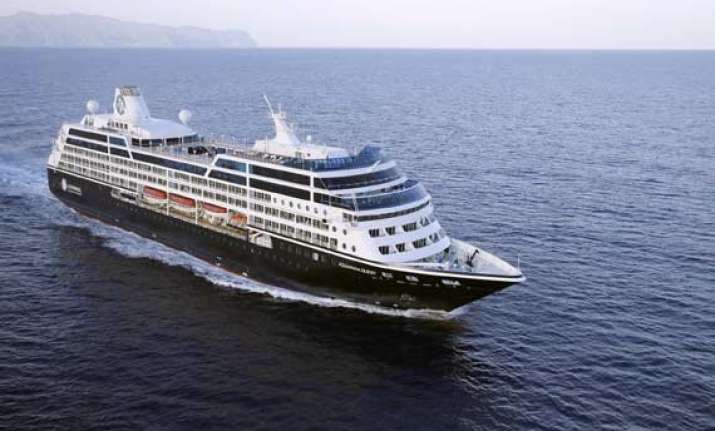 Chennai: The US-based Azamara Club Cruises owned by Royal Caribbean Cruises Ltd is planning to take India off its route map if the immigration and customs formalities are not systematised to ease the hardships faced by passengers, said a top official of the cruise ship 'Azamara Quest'.
Fuming at the delays at the immigration and customs at Chennai Port, the cruise ship's captain Jose Vilarinho told reporters here on board 'Azamara Quest': "If India wants cruise liners to call on its ports then the procedures have to change. When the immigration and customs formalities are completed in a short time at Indian airports, the ports can also do that."
He said the issue is not about the maritime/port facilities like berthing but with the immigration and customs.
He said the company is mulling taking India off its route map from 2017 onwards.
"We may not be calling on Mumbai port from 2017 onwards," Vilarinho said.
He said if such a bureaucratic attitude persists then it will be difficult to handle large cruise liners with a carrying capacity of around 6,000 people.
'Azamara Quest' has a capacity of 698 guests.
Vilarinho said the potential for cruise shipping is good in India and the company would like to develop that.
He said the crew and others had to spend around two hours at the port gate owing to duplication of paper work.
Interestingly, the media contingent had to stand for around 20 minutes at the wharf to board the ship as the officials were in a meeting.
'Azamara Quest' docked at Chennai Port Dec 8 evening and Tuesday evening it embarks on a 13-night 'Spice Route II and Myanmar' voyage sailing to Singapore.
The ship will also visit Port Blair, Andaman Islands in India and dock for two nights in Yangon, Myanmar before sailing to Phuket, Thailand, Langkawi, Penang and Port Klang in Malaysia and finally dropping anchor at Singapore.
Azamara's 2015 voyages programme will comprise 52 voyages, ranging from 5-18 night itineraries to some of the world's most intriguing destinations.