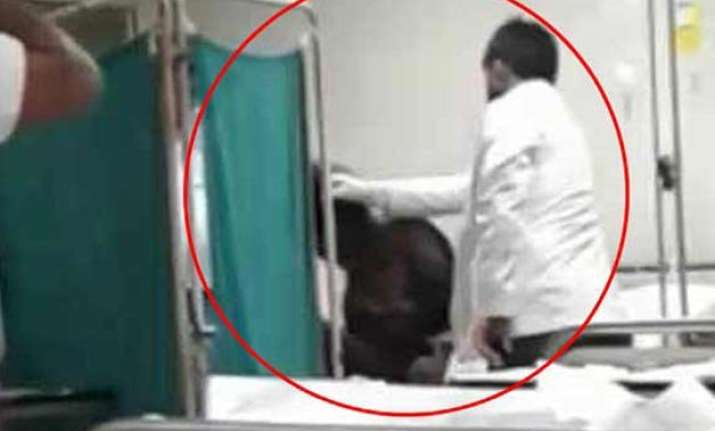 Lucknow: In one of a kind act, a junior resident doctor of Lucknow's King George's Medical University beat up a patient who was repeatedly falling unconscious. The incident was filmed on mobile camera by another patient. The vice-chancellor of the university Dr Ravi Kant has suspended the doctor.
In the video, Dr. Tauheed Ahmad posted in the Medicine department is seen repeatedly slapping the patient Raju Kumar on bed number 1 of the private ward. Another doctor, who is yet to be identified, was also seen hitting the patient. When senior members of the university sought an explanation from the doctor, he justified his act and said that he hit the patient to bring him back to consciousness.
Vice chancellor Dr Ravi Kant has ordered an inquiry. "The doctor has been suspended with immediate effect, and inquiry in the matter has been ordered and would be completed within 48 hours," he said. Chief medical superintendent Prof SC Tiwari will be heading the five-member inquiry committee.
A relative of the patient said that Raju had an accident a few weeks ago and used to faint frequently. He said that they all were out for a few hours when two resident doctors came and started beating him and a fellow patient recorded the whole incident. They added that other patients said that these two doctors used to habitually slap patients.