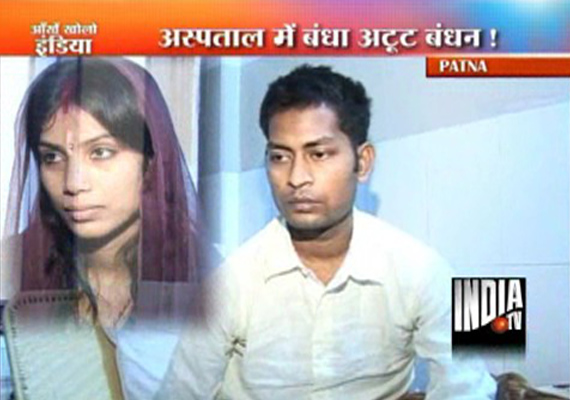 Patna, Feb 29: You might have heard it in stories that once a girl accepts a man her husband from the core of  her heart , no power on earth can separate her from her beloved but a girl from Bihar has proved it in real life.

The girl, Ruby, has set an example for others by marrying her fiance even after the boy lost one of his legs in an accident.

The family members of Ruby mounted pressure on her to forget the boy who, according to them, was no longer fit for her but the girl didn't budge.

Chandan, a resident of Saran district got engaged with Ruby three years ago.

They had decided to tie the knot on March 11 this year.

Unfortunately, Chandan got severely injured in a motorcycle accident.

The doctors had to remove one of his legs in order to save his life.

After Chandan lost his leg, families of both Chandan and Ruby were thinking in terms of breaking off the proposed marriage.

Chandan's family considered the accident a bad omen before the marriage while Ruby's family was not ready to accept a lame boy as Son-in-law.

Ruby, who was working as a teacher in Bagha, resigned from job the moment she came to know of Chandan's accident and rushed to the hospital where Chandan was being treated.

She insisted on immediate marriage in order to stand with Chandan when things looked so tough for him.

Even Chandan advised her to wait till he gets an artificial limb but Ruby was firm on putting to rest all speculations regarding their future life.

Ruby and Chandan got married in Hospital with the doctors making all necessary arrangements.

This was definitely a happy end to a tragic accident.