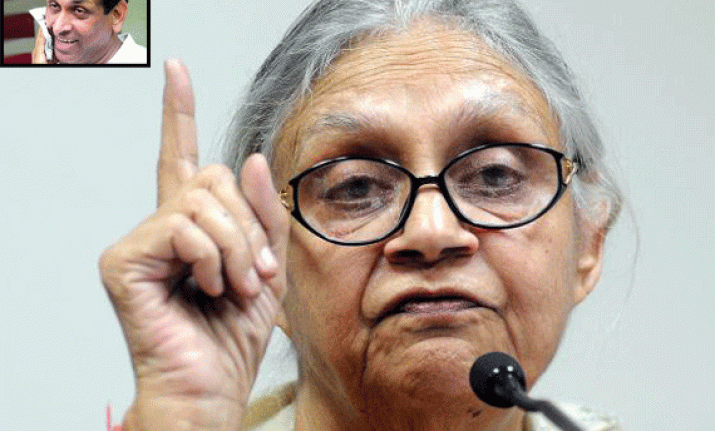 New Delhi, Aug 1: Delhi chief minister Sheila Dikshit says the Lokayukta Justice Manmohan Sarin's remark against her was only related to wrong manifesto and not corruption.
 
"The issue in Karnataka is related to corruption, but in Delhi it is related to wrong manifesto," Dikshit  has said.
 
In his report, the Delhi Lokayukta slammed Sheila Dikshit for "misrepresenting" facts about low-cost houses.  Justice Manmohan Sarin  slammed Dikshit for "misrepresenting" facts by announcing in the run up to 2008 assembly polls that 60,000 low-cost flats were ready for handing over knowing well that the same were not ready.

"The Lokayukta's mandate is to look into issues relating to corruption and not to intervene on governance related matters," PWD Minister Raj Kumar Chauhan, whose removal was recommended by the Lokayukta earlier this year, said.

Critical of Lokayukta's functioning, Chauhan said the anti-corruption watchdog should not take up issues which are not in his domain.

The Lokayukta had recommended to President Pratibha Patil to "administer a caution" to the chief minister to be careful in publication of her messages in future.

In February, the Lokayukta had recommended to the President to "withdraw her pleasure" for Chauhan to continue in office, alleging that he tried to protect a leading resort from a tax evasion case. The President rejected the recommendation  in June.

Sheila Dikshit  hit out at the BJP  saying matter related to action on behalf of Lokayukta order is something different in Delhi from that of Karnataka.

Delhi BJP president Vijender Gupta says, the Chief Minister  "misled" poor people of Delhi ahead of the 2008 Assembly elections and for spending crores on advertisements making false claims about the Rajiv Ratna Awas Yojana.

Gupta says he had also filed a petition before the Lokayukta on the issue of putting out these ads. He accused Dikshit of also misleading the people about the regularisation of unauthorised colonies.

"The Chief Minister had on October 4, 2008, organised a big rally at Chhatrasal Stadium and got distributed provisional certificates to 1,639 unauthorised colonies by Congress president Sonia Gandhi with the promise that all the colonies would be regularised. But now the task force of Delhi Government is putting the residents of these colonies behind bars for even carrying out small constructions."

Another BJP leader  Vijay Goel says, while the Lokayukta has hauled up Sheila Dikshit for misrepresenting to the poor that 60,000 flats under the economically weaker section were ready for allotment when not even a fraction of that number was actually ready, it should also be noted that even in her Budget speech of 2011-12, the Chief Minister had stated that while 13,800 EWS Housing Scheme flats were already available, as may as 2,7,700 houses will be constructed from 2011-12.Even these numbers do not add up to 60,000.
 
Leader of the Opposition in Delhi Assembly V. K. Malhotra says  Lokayukta's order has only "put a stamp on the allegations" levelled by the BJP that the Congress Government in Delhi was repeatedly making false and hollow assurances to the people.