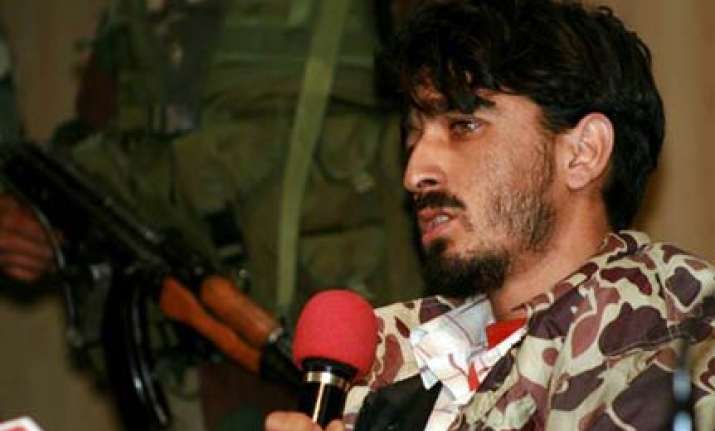 Srinagar, Nov 26: Puncturing Pakistan's claims about dismantling of terror infrastructure in the wake of 26/11 Mumbai attacks, an arrested militant from across the border today said training camps of Lashkar-e-Toiba (LeT) and other outfits were still active on its soil.
Mohammad Saleem Rehmani alias Abu Saad, who was arrested by police from Panzan area in Budgam district, 20 kms from here, told reporters inspite of the crackdown launched by the Pakistani authorities, the militant training camps were active in various parts of the country and Pakistan-occupied Kashmir (PoK).
"There were about 250 to 300 militants training with me during the Daura-e-Khas (special or advance course) who are being trained in handling weapons and launching attacks on security forces in Kashmir," Rehmani, who infiltrated into the valley few months ago, said.
He said the permanent training camps, which were operating in Pakistan before the attacks on Mumbai in 2008 have been sealed, but makeshift camps have been set up in forests where training is being imparted these days.
Rehmani, who hails from Nawab Shah area of Sindh province of Pakistan, was part of an eight-member LeT group which infiltrated into Kashmir from Lolab sector in Kupwara district.
He is lucky to be alive as all his accomplices were killed in two gunbattles with security forces in Lolab and Kangan area of Ganderbal district.
"I was injured in the gunbattle and somehow managed to reach a Srinagar hospital where I was treated," he added.
Feigning ignorance about the involvement of Pakistan army in training the militants in the camps, Rehmani, however, confirmed that the forces used to facilitate the infiltration of militants into Jammu and Kashmir.
"There are four to five launching pads active in Azad Kashmir where 45 to 50 militants are always ready to infiltrate. When they are given green signal by the Army, they cross over," he said.
He said he had not come across any army officer during his training at several camps in Pakistan and PoK.
Though expressing his desire to take part in 'jehad' again, the arrested militant said there was no need for the holy war in Kashmir.
"During my stay in the hospital, I interacted with people of Kashmir and found that they are happy in their way of life. I do not think that there is need for jehad in Kashmir," he said.
Inspector General of Police (IGP) Kashmir S M Sahai, briefing the reporters about the interrogation of Rehmani, said the revelations made by the militants explain the role of Pakistani agencies in fuelling militancy in the valley.
"Lashkar and other outfits are openly motivating youth to train for attacks on security forces in Kashmir. Rehmani has revealed that most of the camps and motivation centres, which were claimed to have been closed by Pakistan government, are still functional," Sahai said.
He said the militants were put through three courses before being selected for carrying out suicide attacks.
"The first phase is Daura-e-Aam (ordinary training) followed by Daura-e-Khas. The best out of the second stage are selected for Daura-e-Lashkar (Lashkar or Army training) to carry out suicide attacks," he said, adding, it indicated the kind of training received by Rehmani before being sent here. PTI