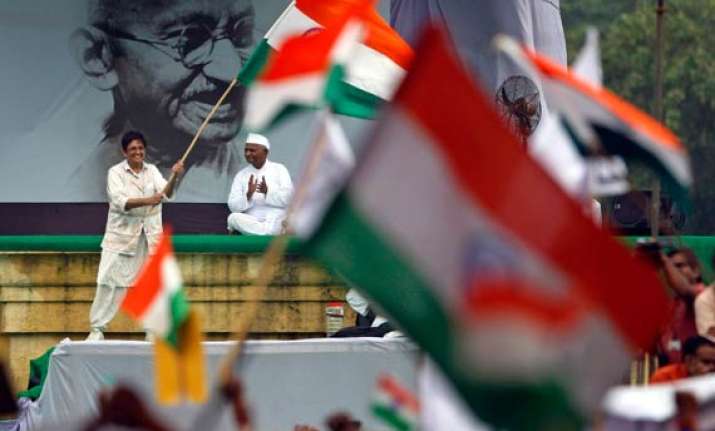 New Delhi, Aug 21:   Anna Hazare's supporters at Ramlila Maidan can learn a thing or two about the Lokpal bill at 'Anna ki Paathshala', as it is called by supercop Kiran Bedi, who has turned into a teacher, informing the public about the issue.

Bedi, who also spoke about what is wrong with the Indian system when it comes to dealing with corruption, added that she would use the large assembly at the Ramlila Maidan to talk about the need for the Lokpal Bill and inform people about what they were fighting for.

While thousands have thronged the grounds in support of Hazare, not all know much about the Lokpal Bill and how the government's version of it differs from that drafted by Team Anna, she said.

"At least now you will know what we are fighting for and when the media asks you, even they will be astonished to know how much you know. You should tell them that you learnt these intricate details at Anna ki Paathshala," she said. 
Delivering what she called was her 'first lesson', Bedi said the CBI should be left out of the government ambit.  "The 3,000 people working under anti-corruption wing can work independently," she said.

"I was at recently at Tihar, where normally poor are held and rich are let off, but for the first time four MPs are lodged there," she said.

An atmosphere of festivity is all around Ramlila Maidan.

Hazare is seated at a raised dais, as high as 15-feet, with the public seated at a distance of 60-feet from him. With the crowd swelling the ranks of Anna supporters, a barricade at the ground broke down today. PTI