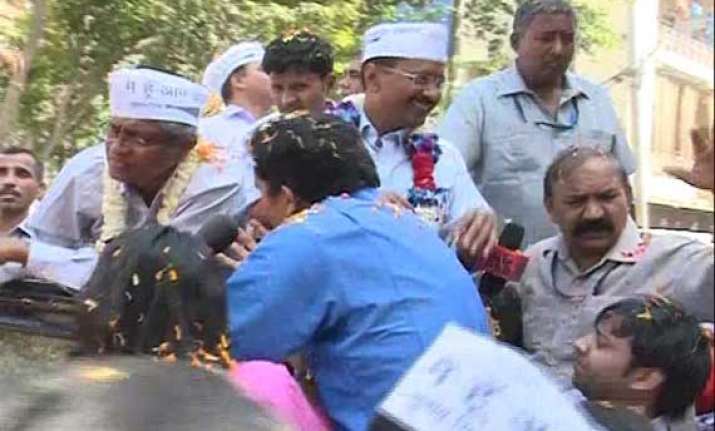 New Delhi: Arvind Kejriwal's road show in Britannia chowk area of Chandni Chowk constituency, nine days ahead of the Lok Sabha polls, drew enthusiastic crowd which had gathered to catch a glimpse of the Aam Aadmi Party chief.
As the convoy of more than 20 cars passed through the lanes and bylanes of the congested area, residents peered out from the roofs and windows of their houses waving and cheering for the former Delhi Chief Minister.
However, the road show disrupted traffic which left commuters reeling under chaos on a weekday and passer bys had a tough time reaching their destinations.
The convoy was led by an open jeep in which Kejriwal along with AAP's Chandni Chowk constituency candidate Ashutosh waved to the crowd and also shook hands with some residents.
Many residents who moved along with the convoy even garlanded Kejriwal as he moved ahead.
"We will vote for Kejriwal. He has a clean image and he deserves a chance," said 62-year-old Rishi Kumar.
Kick-starting the road show from Britannia chowk near Samraat Cinema hall amid extensive police deployment, Kejriwal's cavalcade passed through thickly populated areas such as A-Block Mother Diary and Saraswati Chowk and urged people vote for the journalist-turned-politician, Ashutosh.
Kejriwal held the BJP and Congress responsible for ceasing off the subsidy on water and electricity which he had offered when in power and said he will start the subsidy if he gets to power.