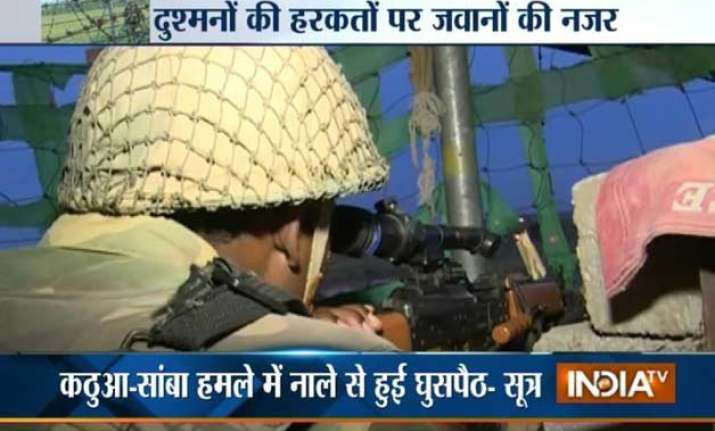 Jammu: Pakistan based fidayeen groups are setting up new launch pads with close distance from the International Border in Jammu and Kashmir.
According to reports, Lashkar-e-Taiba (LeT) has established fresh base camps in areas closer to the Indo-Pak border with active support from the Paksitani army.
The LeT is now aiming to execute its plan of ghastly terror attacks in Indian territory. The recent terror attacks in Kathua and Samba were also the part of the same plan.
In its report to the Minister of Home Affairs (MHA), the BSF has said that it has identified more than 10 terror camps aligning the International Border. Militants, trained by the Paksitani army in the Pakistan-occupied Kashmir, are brought to these forward areas and put on standby to strike at short notice.
The BSF report also stated that eight infiltration attempts have been foiled in the past two months in the region.
Bada Bhai Masroor, Abhial Dogra, Chaprar, Sukhmal and Charkbhura in Pakistan, close to the Jammu border, have been identified as the launch pads that are being controlled by LeT.
A BSF officer said that with the help of surveillance equipment, they have spotted armed men in civil clothes assembling across the border.
According to recent intelligence inputs, nearly 60 terrorists from across the border are ready to carry out terror strikes in India. The report also said these lauch pads are regularly visited by LeT founder and 26/11 mastermind Hafiz Saeed.
Sources said most of the border is fenced and about 7km is not fenced in Jammu. Arnia, Paharpur, Samba, Kathua and Akhnoor in Jammu have been the vulnerable spots in the terror groups' plans to infiltrate India.
Meanwhile, the army has beefed up security along the border area. The 192 km long International Border in Jammu region runs from Kathua to Akhnoor. The Seemapur region on the border witnesses regular cross border firing. The region also has many small and large rivulets which makes the area more vulnerable for infiltration.
India TV crew recently visited different security points on the border and assessed the security arrangements. The army has fenced the rivulets (within the water)  with barbed wire . The BSF Jawans also keep a strict vigil on both side of these ravines through the surveillance devices.