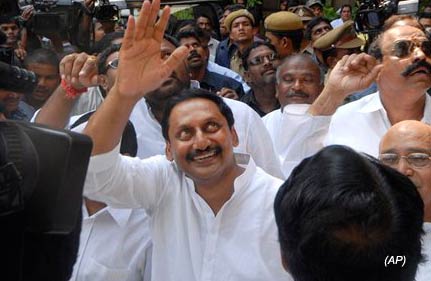 Hyderabad, Nov 25: Taking over the reins of power in the midst of immediate challenges on the Jagan and Telangana fronts,  new Andhra Pradesh Chief Minister Kiran Kumar Reddy today struck a cautious note saying he would go by the advice of the Congress and the Centre on these issues.
In a balancing act, he told a press conference shortly after taking over from Rosaiah that he would make every effort to take everyone along.
"I have proved beyond doubt that I am comfortable with every leader," Reddy said  replying to a  question on Y S Jaganmohan Reddy, son of late Y S Rajasekhara Reddy.
On the demand for action against Jaganmohan for the attacks on Congress President
Sonia Gandhi
and the party through his media outfits, Reddy, a YSR loyalist,  said it was an issue in the domain of the party.
On the Telangana issue, the Chief Minister said the five-member Committee appointed by the Centre was looking into it. "We shall act in accordance with the Centre's directives on the issue," he said.
Improving governance by putting in new systems and making Andhra Pradesh the most sought-after investment destination in the country are the top priorities the new Chief Minister N Kiran Kumar Reddy has set for himself.
The Chief Minister also asserted that all the programmes promised in the Congress' election manifesto last year and the schemes introduced by late YSR would be continued. PTI