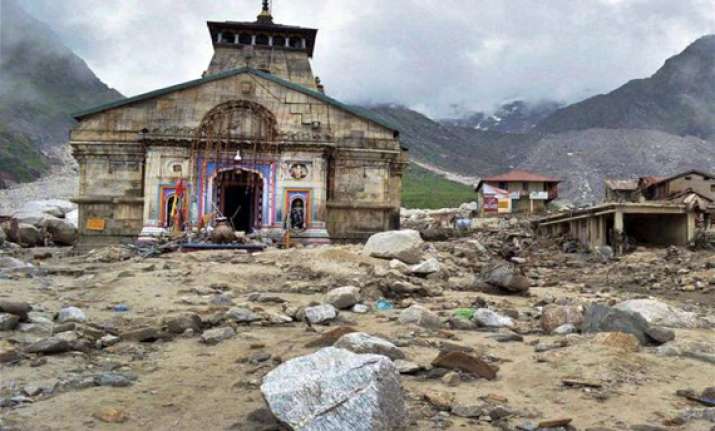 Dehradun: Geological Survey of India (GSI) has submitted its report on the reconstruction of the Kedarnath area to the Union Cabinet sub-committee set up for the purpose and work on the project would begin soon, Uttarakhand Chief Minister Vijay Bahuguna said yesterday. 
Bahuguna said that a meeting of the Cabinet sub-committee to be held in Delhi this month would finalise the plan for the reconstruction of the flood-ravaged areas of the hill state on the basis of the GSI report. Prime Minister Manmohan Singh heads the said sub-committee.
Bahuguna was talking to reporters at Guptkashi in Rudraprayag district where he had accompanied Union Commerce and Industry Minister Anand Sharma on a tour of some of the worst-affected areas following the flash flood calamity in June in the state.
The Uttarakhand CM met a delegation of those who lost their property in the flash flood and assured them that the government was looking to extend suitable compensation to all.  
He also said that a compensation package was being readied for those whose shops were destroyed in the flash flood while hotel and taxi operators, too, were to be given attention.  
Meanwhile, talking about cyclone 'Phailin', which tore through the country's east coast on Saturday, Bahuguna said that had a system existed which could warn them about cloudbursts, Uttarakhand could have vastly limited the damage caused by the June calamity in the state.
Advance notifications by weather officials had led to mass evacuations in the eastern coastal states of Odisha and Andhra Pradesh which helped minimise the loss of human lives in cyclone 'Phailin'.