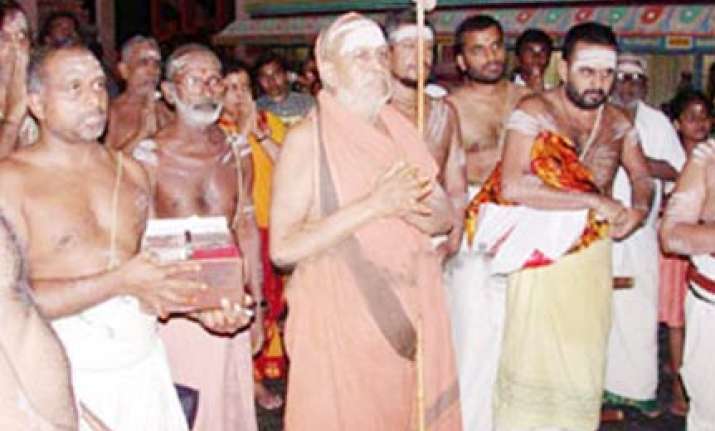 New Delhi, Oct 1: Kanchi Seer Jayendra Saraswati today welcomed the Allahabad High Court judgement on Ayodhya title suits saying it would bring communal amity while the chief cleric of Jama Masjid Syed Ahmed Bukhari today termed it as "unaccpetable".
Jayendra Saraswati said the court ruling has paved the way for a negotiated settlement of the issue but the Shahi Imam said "we cannot accept a decision made in a closed room".
"The judgement has resulted in dividing the land into three parts. The Sriram temple can be built in the required acreage only if all parties amicably discuss the matter and adopt a give and take policy," the Hindu seer told reporters in Kanchipuram.
Jayendra Saraswati, who at once played a mediatory role in a bid to resolve Ayodhya issue outside the court, said the parties to the discussion could be religious and Mutt leaders and Sankaracharyas, All India Muslim Personal Law Board, Waqf Board, the Nyas (under Nrthya Gopaldas) and the Akhara sect (to whom one part of the ground has been decreed).
"The important thing is that peace should prevail and negotiated settlements must slowly begin", he said.
The Seer said though the judgement has paved the way for a negotiated settlement, the purpose of building the temple cannot be immediately achieved and this could be done only through talks.
Addressing a gathering during Friday prayers at the Jama Masjid in Delhi, Imam Bukhari said a decision on such a crucial issue cannot be taken in a "closed room".
"We are unhappy with the court verdict. The decision should be made by the Muslim public in the open. We do not accept the decision made in a closed room", he said.
He said the verdict turned out to be a "settlement" and "partition" suit rather than a title suit.
Bukhari urged the community members to maintain peace and not take any step to spoil the peaceful atmosphere.
Without naming any particular political party he said, people of the community should be wary of those who attempted to politicise the issue. PTI