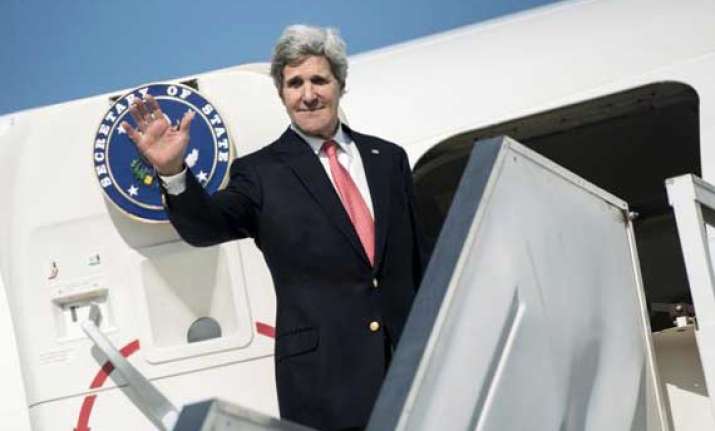 New Delhi: US Secretary of State John Kerry, who will arrive in India today for a three-day official visit, will meet Indian PM Narendra Modi on August 1. Whereas External Affairs minister Sushma Swaraj and John Kerry are scheduled to meet at 3 PM tomorrow for strategic level talks.
After the kerry- Sushma meeting, a Joint Press Conference will be held at 6 pm which will be followed by the dinner tommorrow.
Kerry will be accompanied by a high-level inter-agency delegation with representatives from the Departments of Commerce, Energy, Homeland Security, Department of State among others.
It is the first cabinet-level contact of the Obama administration with the new Indian government led by Prime Minister Narendra Modi. Kerry will identify areas of convergences and divergences with the Modi government and prepare a suitable situation for a big push in Indo-US bilateral ties when Modi meets Obama in Washington in September.
The fifth India-US Strategic Dialogue in New Delhi on 31 July, to be co-chaired by External Affairs Minister Sushma Swaraj and Kerry, provide an important opportunity for the two sides to size up each other. Similar opportunity will be on hand next month when US Defence Secretary Chuck Hagel visits India.
However, all these ministerial visits from the US side and major announcements in Indo-US ties must have to wait until the Modi-Obama meeting, likely to be held on 30 September.
John kerry has already praised PM Narendra Modi for his development models and expressed interest to work closely with Modi led BJP government, before leaving for India.
Kerry has also praised Modi's mantra of 'Sabka Saath Sabka Vikas'.
Not too long ago, President Obama had described relations between India and the US as "one of the defining partnerships of the 21st century" and yet the US heaped the worst ever humiliation on an Indian diplomat in New York last year.
India and the US have much at stake in rebooting their bilateral relationship. Bilateral trade is an important area that holds lot of promise and potential. I
India and the US had launched the Strategic Dialogue in July 2009, focusing on five pillars of mutual interest namely Strategic Cooperation, Energy and Climate Change, Education and Development, Economy and Trade, Science and Technology and Health and Innovation.