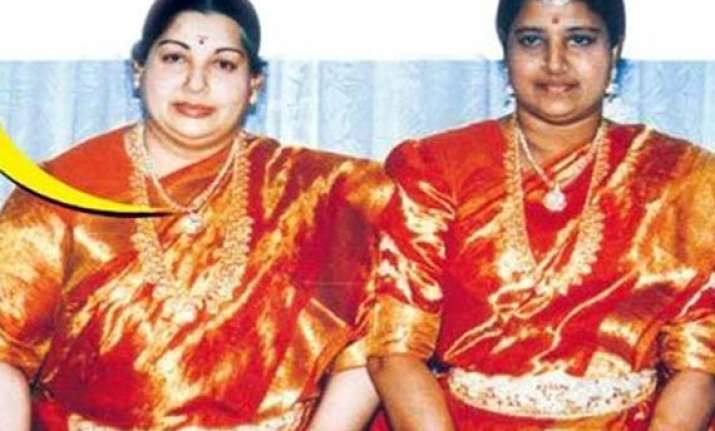 Chennai, Dec 19 : In a surprise move, AIADMK supremo Jayalalithaa  today expelled her close aide V K Sasikala and her husband M Natarajan besides 10 others from the party's primary membership.
 
The drastic action against Sasikala, who had enjoyed absolute confidence of Jayalalithaa was announced in a brief statement by Jayalalithaa,  who also told her partymen not to have any truck with the expelled members.

 
Sasikala, also an AIADMK executive member, Natarajan and their relatives, including T T V Dinakaran and Jayalalithaa's disowned foster son V N Sudhakaran "are being expelled from all posts, including the party's primary membership," she said.

 
Others  expelled are V Bhaskaran, S Venkatesh and Ravanan, all of whom were believed to have been calling the shots in the party after it won the April 2011 Assembly polls, besides M Ramachandran, Mohan, Kulothungan, Rajarajan and Divakar.

 
The expulsion comes days ahead of the meeting of the party's decision making bodies, the general council and the executive, on December 30.

 
The Jayalalithaa-Sasikala saga had been always a talking point in state political circles as the latter is seen with Jayalalithaa in most of her private and public appearances.

 
Sasikala is one of the accused in the disproportionate case relating to Jayalalithaa, who had appeared before a trial court in Bangalore recently.
 
Sources said, Jayalalithaa sacked her close friend because she was interfering too much in the administration, and was reportedly planning to gang up with some MLAs to weaken Jayalalithaa's leadership.

 
Jayalalithaa and Sasikala had been close friends for decades and had been staying together for many years at her Poes Garden residence also.
 
This expulsion comes  days before the AIADMK General Council and Executive Council meetings slated for December 30.

 
Sasikala, who used to run a video parlour, came into contact with Jayalalithaa in the Nineties, when her husband Natrajan, a government servant came close to the AIADMK leader.

 
Sasikala came closer to the leader when Jayalalithaa's residence was raided in 1997  and hundreds of shoes, costly clothes and watches were found during the searches. Since then, she had been serving as the closest aide of the AIADMK leader.
 
Jayalalithaa and Sasikala have for long been live-in friends, with the latter wielding considerable influence in state administration (whenever Jaya was in power) as well as in party matters.


In 1996, soon after her electoral debacle, Jayalalithaa 'disowned' her friend, accusing her of making 'some mistakes'. But the estrangement lasted only for a brief while with the two friends making up and getting back together.
 
The pro-DMK  Kalaignar TV  played up a video footage that showed Jayalalithaa and her confidante Sasikala exchanging garlands in a temple near Nagapattinam.

 
The occasion happened to be Jayalalithaa's 60th birthday falling on 'Maasi Makam' of the Tamil calendar.

She and Sasikala had participated in the 'ugra ratha shanthi' or 'ayush homam', normally conducted for a person's longevity, at the Thirukkadaiyur temple in Nagapattinam, about 350 kilometres from Chennai.

 
It is customary for men in Tamil Nadu to observe the 'shashtiabdha poorthi' along with their wives, exchanging garlands and going through the ritual of "marrying again".