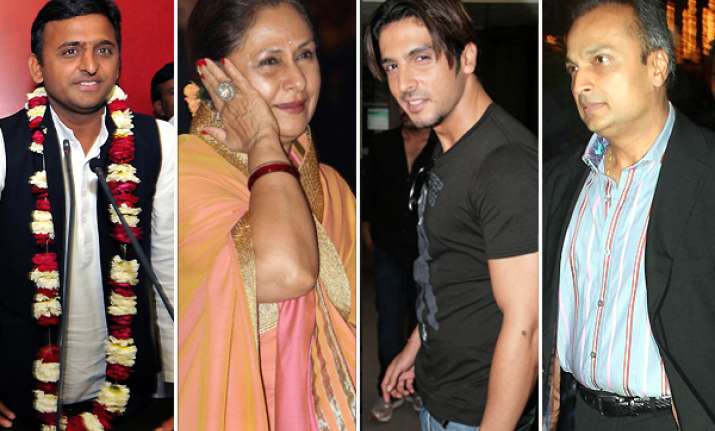 Lucknow, March 15 : Samajwadi Party MP Jaya Bachchan, film actor Zayed Khan, industrialist Anil Ambani, Punjab chief minister Parkash Singh Badal, CPI-M general secrtary Prakash Karat were among the dignitaries who attended Uttar Pradesh chief minister Akhilesh Yadav's swearing-in ceremony, which literally ended in chaos.

UP Congress chief Rita Bahuguna Joshi and Parliamentary Affairs Minister Pawan Kumar Bansal represented the Congress at the ceremony, also attended by Sahara group chairman Subroto Roy.

After the chief minister, cabinet ministers and ministers of state took their oaths, swarms of Samajwadi Party workers  forced their way up on to the dais, throwing securitymen accompanying Governor B L Joshi in a tizzy.

The SP workers jostled with the ministers, officials and securitymen present on the dais, and toppled the mike at one stage.

UP policemen watched helplessly as the politicians and other dignitaries made a hasty exit. The excited workers also pushed mediapersons present with the crew.

Top Bollywood star Amitabh Bachchan was expected to attend, but could not due to health problems.

The swearing-in ceremony took place at the La Martiniere Boys College grounds here.

A huge enclosure had  been erected at the venue and the Yadav family had doled out invitations to every celeb known to them. Few Bollywood celebs ultimately turned up.