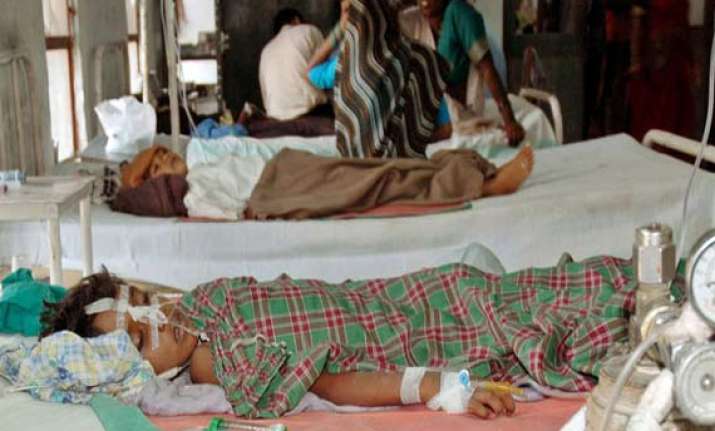 Guwahati: Japanese Encephalitis has claimed 43 lives and affected 311 people so far in nine districts of Assam this year with Chief Minister Tarun Gogoi directing health department officials to effectively tackle the spread of the disease.
Lower Assam districts of Barpeta, Kamrup (Rural), Darrang and Nalbari districts have been worst affected by the disease.  Barpeta reported eight deaths and 54 positive cases while Kamrup (Rural) reported four deaths and 34 cases of Japanese Encephalitis during the last week, according to health department data.
Darrang, Sivasagar and Nalbari have reported six deaths each with 20 confirmed positive cases in Nalbari alone while two deaths were reported from the Kokrajhar district.  Kamrup (Metro) district has recorded 31 positive cases but no deaths so far.
Vaccination drives were carried out in the districts of Tinsukia, North Lakhimpur, Jorhat, Dibrugarh, Dhemaji and Golaghat in Upper Assam early this year.  Chief Minister Tarun Gogoi had directed state Chief Secretary Jitesh Khosla to ensure that health department gears up the vaccination drive and ensure regular flow of medicine to hospitals and health centres.
Gogoi also directed Principal Secretary, Health and Family Welfare Sanjeeva Kumar to take all possible preventive measures to check the spread of Japanese Encephalitis.  Kumar had apprised the Chief Minister that the situation was not alarming and incidences of Japanese Encephalitis was less than last year.  
The Principal Secretary told Gogoi that truckloads of medicine were being sent to different parts of the state daily and wherever there was shortage, it would be replenished in the next few days.