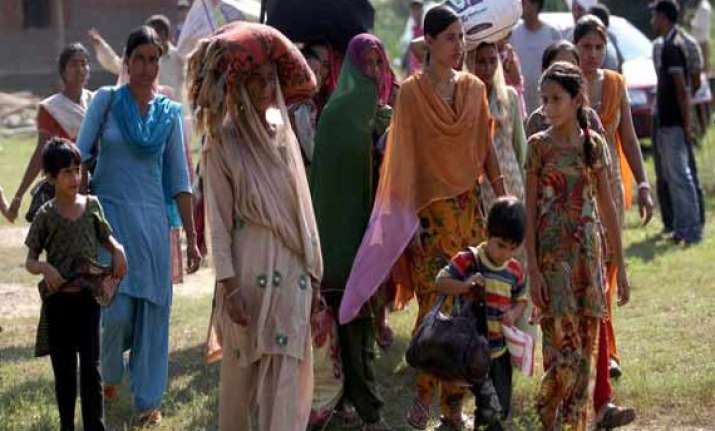 Jammu: Around 3,000 villagers, who have left their homes close to the International Border in the wake of firing and shelling by Pakistani forces, have been rehabilitated by the Army.
"We have provided most of the facilities like food, medicare, tents to over 3,000 people, mostly women, children and elders displaced from border hamlets due to Pakistani firing," an Army official said.
Eleven teams of Indian Army's Tiger Division in concert with civil administration provided medical, tentage, food, water and temporary sanitary facilities including toiletry items to over 3,000 displaced people in R S Pura, Arnia and Ramgarh sectors, a defence spokesman said.  
The civilians are living in over 11 camps put up by the civil administration in R S Pura-Dablehar, Devigarh, Salehar, Rehal, Ramgarh and Habtal, he said.
The Army team also included nine women officers, four lady medical officers, who specifically address the needs of of women and children.
Children residing in the various camps were also provided with sports equipment to keep them engaged and motivated, the spokesman said.
At some camps, government teachers were involved to teach displaced children. The relief measures will continue till the border situation normalises, he said.
In addition to providing relief, the border population was also made aware of actions and precautions to be taken against enemy shelling and firing.
Two people were killed and 17 others, including four jawans, were injured in Pak firing and shelling on border out posts and civilian areas in R S Pura, Arnia, Kanachak, Akhnoor, Gajansoo and Ramgarh sub-sectors of Jammu and Samba districts in the past fortnight.