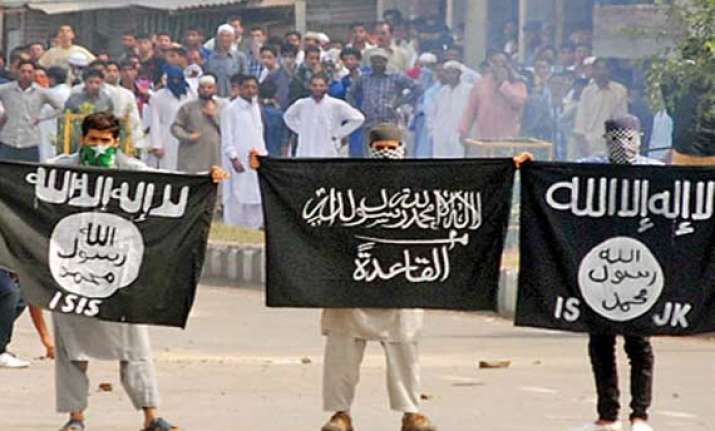 New Delhi: Security forces fighting militancy have a new worry at hand after the flags and banners of dreaded Islamic State for Iraq and Syria (ISIS), and Al Qaeda made their debut in the terror plagued Kashmir.
Some men used the flags to cover their faces while others guarded the lanes and bylanes, intensifying tensions in the region.
According to reports, the supporters of ISIS chief Abu Bakr al-Baghdadi were protesting against Israel assault on the Gaza Strip.
After the Eid prayers were over, people started shouting anti-Israel and Pro-Palestine slogans to protest the Israeli aggression on Gaza.
The call for 30 minute post-namaz protests was given by pro-Pakistan Hurriyat hawk Syed Ali Shah Geelani to agitate against attacks on Gaza.
Youths, wearing masks, also pelted stones at the security forces prompting them to fire smoke shells and lathicharge the mob.
While Pakistani-based outfits such as Lashkar-e-Taiba, Jaish-e-Mohammed and Hizb-ul-Mujahideen do operate in the state, the appearance of ISIS and Al Qaeda supporters has put the security forces in a fix.
Neither of the two pan-Islamic Jihadi organizations have presence in Jammu and Kashmir.
Security forces were however rattled when Al Qaeda released a video in June calling upon the Muslims in Kashmir to wage Jihad against Indian authorities.
Entitled 'War should continue, message to the Muslims of Kashmir', the video features the statement of Al Qaeda commander Moulana Asim Umar threatening that the caravan (of heroic martyrs) was coming to "liberate Kashmir".