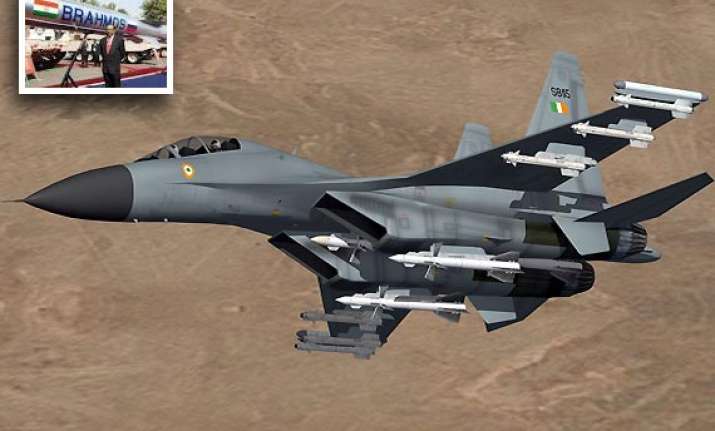 New Delhi: BrahMos Aerospace revealed yesterday that Indian Air Force will get 40 SU-30MKI strike fighters armed with a smaller version of BrahMos missiles.
This was revealed by the Russian-Indian joint venture BrahMos Aerospace President Sivathanu Pillai at the international arms exhibition DSA-2014 in Kuala Lumpur.
The company is working to reduce the weight of the missile so that it could be integrated with different platforms, including the fifth-generation fighter India is creating together with Russia, he said.
Pillai noted that the commissioning of the Vikramaditya aircraft carrier complete with deck-based MiG-29K/KUB jet fighters required accelerated work to arm them with a smaller version of the BrahMos missile so that the aircraft could take off from the carrier with two missiles under their wings.
While the fifth-generation jet fighter and MiG-29K/KUB aircraft can be armed with two BrahMos-M missiles, the Su-30MKI strike fighters can carry three such missiles.  
The latter aircraft will be modernised to take and fire the missiles. The Indian Air Force has already made the relevant decision.
Pillai hopes that the first ship-based version of the BrahMos missile will be fired in the fourth quarter of this year from a SU-30MKI jet fighter.
The missile will be 6 metres long and have a diameter of 0.5 metres. It will be able to travel at a speed 3.5 times the sound velocity and carry a charge of 200 to 300 kg over a maximum distance of up to 290 km.