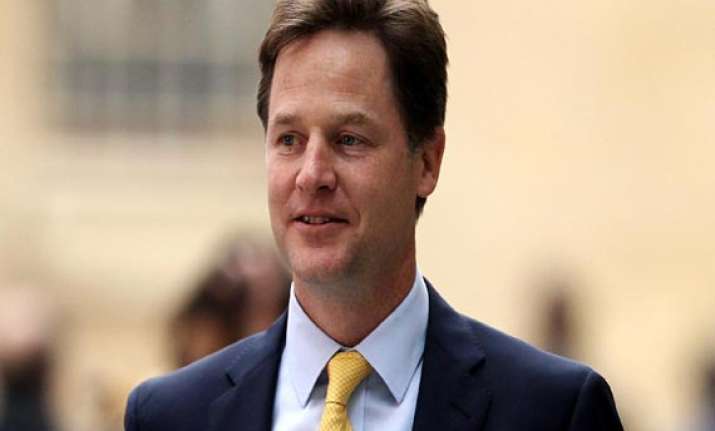 New Delhi: Excited over his first visit here, British Deputy Prime Minister Nick Clegg today said his country would like to help India at "each step" of its journey to growth and in implementing its ambitious agenda of turning the "page".
Clegg, who held wide-ranging talks with Prime Minister Narendra Modi here, said he was upbeat on hearing about the new leadership's "impatience" to unleash the dynamism that this country has.
"...this is my first visit to India.... It is a dream come true....I felt like I was visiting a country which I knew," he said addressing a reception hosted by the British High Commissioner James Bevan in his honour at his residence.
"There is a sense of possiblity here about what is there to come. We wish to see the turning of the page on old infrastructure, going for new infrastructure and welcoming new investment," he said.
"All these things are possible, all these things are going to happen and at each step, we wish to play our role and help your great nation on its journey," Clegg told the gathering which included a number of Indian and British businessmen.
He said that during his meeting with Modi, the two leaders focussed on certain commercial issues and discussed some "difficult" issues as well.
"I was uplifted by Prime Minister Modi's personal agenda," he said, while noting that there is a desire to see a transformation and wish to see turning of the page in infrastructure and development.
Clegg said Modi was of the view that future economic growth of the country should be environmentally sustainable, keeping respect for the nature and not at the cost of future generations.
He said Modi was particularly keen on clean up of river Ganga in which Britain's help is being sought.  In this context, the British leader said river Thames once used to be filthy but now it is exceptionally clean.
In terms of business, he hoped that British products like beverages and food items are found exciting by India's 1.2 billion people to help boost commerce.
Talking about the prospects of cooperation in education sector, Clegg said Britain has a huge network of institutes which offer vocational skills programmes and the country would be happy to share this with India.