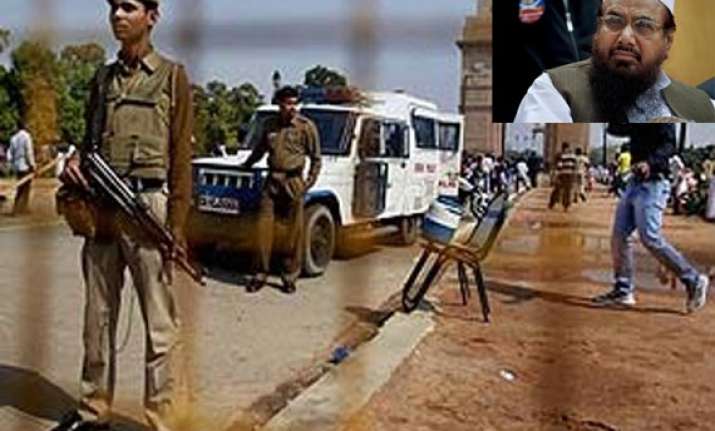 Lahore/New Delhi, Aug 9: Hafiz Saeed, the mastermind of 26/11 Mumbai terror attacks, and the chief of Jamaat-ud-Dawah (formerly Lashkar-e-Toiba) today led Eid ul Fitr prayers at the Gaddafi stadium in Lahore, ringed by security personnel.
Early this morning, Saeed tweeted Eid greetings with a strong anti-India message on Twitter microblogging site.
The Jamat-ud-Dawah chief tweeted that "time is near when those oppressed in Kashmir, Palestine and Burma will celebrate Eid in the air of Freedom".
Thousands offered the prayers with Saeed, who carries a USD 10 million bounty on his head.
Posters with Saeed's photo were pasted in several locations in the city ahead of the gathering.
In his tweet Saeed said, "Time is near when those oppressed in Kashmir, Palestine and Burma will celebrate 'Eid' in the air of Freedom - Insha'Allah.  #EidMubarak."
"So, we say Eid Mubarak to you in these testing times; soon world will say Eid Mubarak to you after your triumph. May ALLAH accept."
"ALLAH will not waste your Sacrifices, Ummah will be glorified, Islam will be strengthened, that time is very near #kashmir," he tweeted from his account '@HafizSaeedJUD'.
India has repeatedly asked Pakistan to bring Saeed to justice for masterminding the 2008 Mumbai attacks. He has often been seen addressing anti-India rallies in Pakistan.
Islamabad says it has no proof against him.
A total of 166 people, including six Americans, were killed in the LeT terror attack in India's financial hub of Mumbai in November 2008.
Meanwhile, the Intelligence Bureau has sent an alert to Delhi Police about Hafiz Saeed's plan to carry out a major terror attack on the lines of 2000 Red Fort attack in Delhi.
Delhi Police has beefed up security with all guest houses and hotel owners being asked to keep records of all visitors.
Saeed roams freely in Pakistan despite the United States declaring a $ 10 million bounty on his head.
He gets top security from the ISI and other Pak security agencies for his movement.
Reports said, it was Hafiz Saeed who materminded the attacks by Border Action Teams including Lashkar terrorists helped by Pak security forces on Indian army jawans in Poonch sector of Line of Control.
"We have received a letter from IB about a threat from a terrorist outfit ahead of Aug 15," Special Commissioner of Police (Special Cell) S.N. Srivastava told IANS.
"Delhi has been put on high alert and security has been beefed up in markets, crowded places, high rise buildings and government offices following the alert," he said.