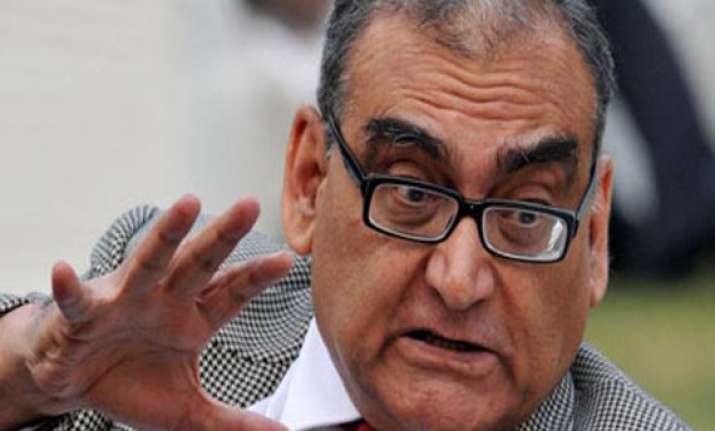 New Delhi, Dec 10 :  Press Council of India chairman retired Justice Markandey Katju today clarified that his remark '90 per cent of Indians are fools' was meant to awaken people to the realities of social evils like casteism, communalism in the country.  
"I have been misquoted in the press reports, but it is true that I have said that 90 per cent Indians (not all) are fools.
My intention in saying so was not to hurt anyone but to awaken people to the realities, that is, the widespread casteism, communalism, superstitions, and other backward traits in the mindset of a large section of our people which is blocking our progress and keeping us poor," Katju today said in a mail to students Tanaya and Aditya.
The two students had reportedly sent a legal notice to the PCI chairman for making the remark.
"The figure 90 per cent is not a mathematical figure, it simply means that in my opinion a large proportion of Indians (and again I repeat, not all) are fools," Katju said.
"I never named you, nor any community, caste, or sect, and I never said that you are in the category of 90 per cent.  Hence I do not see how you are defamed," he added.
Two city youths have sent a legal notice to chairperson of Press Council of India Justice Markandey Katju for his remarks that 90 per cent of Indians were idiots.
Meanwhile, two Lucknow students Tanya Thakur, first year law,  and her brother Aditya Thakur in their notice have asked Justice Katju to issue a public apology and in case this does not happen within a period of 30 days they would move the court.
Tanya and Aditya have said that being average citizens of of the country they were deeply hurt and humiliated by the statement.
They further added that Katju's  statements would deprecate the reputation of the country and its citizens and a person of his stature should have deliberated on the implications of his statements.